Bangkok is one of the most modern cities in Thailand. You can easily locate people wearing trendiest of clothes and accessories here. Besides, owing to its tropical climatic conditions, light and casual clothes are the basic clothing style of most of the people here. When you visit Bangkok, you too can wear western attires, as people here have a very liberal outlook. Be it cool, casual, ethnic, flamboyant, outdoorsy or chic clothes, there is no bar when it comes to clothing, excepting certain cases. So, if you are worried over what clothes to wear or how to dress in Bangkok, just relax.
Casual clothing, such as tank tops, spaghetti strapped tops, singlets, short skirts, t-shirts, trousers, jeans, three-fourths, tunics, khaki shorts, etc, are considered as appropriate. You can wear them while visiting malls, restaurants, movie complexes, markets, etc. You can even roam around in the streets wearing such clothes. As Bangkok experiences tropical climatic conditions, people here do not expect you to wear long-sleeved clothes and long trousers all the time. However, wearing apposite clothes becomes a must when visiting religious places, monasteries or places having a great significance to Thai traditional culture.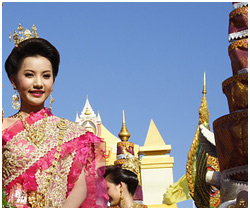 In case you visit a Wat (Buddhist Temple) or tourist attractions like the Grand Palace, you should take care not to dress provocatively or too casually. Make sure that you show proper respect to Thai tradition and culture, by dressing in conservative and clean clothes. Men should avoid wearing vests or sleeveless shirts. Women should also wear decent clothes and refrain from wearing sleeveless shirts, shorts, hot pants, tank tops, mini skirts or any other revealing dresses. Also, avoid flip-flops and sandals to these places. Instead, wear covered footwear or shoes and take them off before you enter the temple.
While visiting any government offices, make sure that you are dressed in proper formal or semi-formal clothes. Do not wear overtly casual dresses to such places. Remember that Thai people dress impeccably all the time and respect people who take care to dress and groom well. More often than not, Thai people won't really come up to you and give you cues on your improper dressing, but you should be thoughtful enough, so as not to hurt their religious or cultural sentiments. Be respectful to the customs and beliefs of the local people and you will be bestowed with equal respect and warmth, in return.