Popularly known as Wat Phra Chetuphon among the Thais, Wat Pho is one of the most celebrated Wats in Bangkok. Located on Chetuphon Road, in the Phra Nakhon District of the city, the temple houses the largest Reclining Buddha Image (Phra Buddhasaiyas) in Thailand, thus earning itself another name - The Temple of the Reclining Buddha. Apart from the massive Buddha image, Wat Pho also holds more than one thousand Buddha images, making it the largest depository of Buddha images all over Thailand. With its boundary encompassing an area of 20 acres, it also claims excellence as the largest Wat in the country.
Built approximately 200 years before Bangkok became Thailand's capital, it is claimed to be the oldest Wat of the country. However, today, the Wat shows no traces of its primeval history, owing to its major restoration works during the regimes of Rama I and Rama III. Leaving aside its antiquity, the focal attraction of the temple is its huge gold plated Reclining Buddha statue. It is 46 m long and 15 m high, with eyes and feet delicately carved with mother-of-pearl decoration. The feet of the statue also present the 108 holy characteristics of the true Buddha, in both Chinese and Indian styles.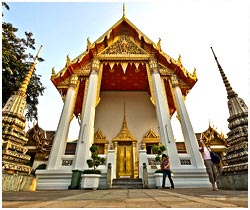 Apart from the stunning image of the Reclining Buddha, the temple grounds exhibit more than 1000 Buddha images, most of them tracing back their history to the former capitals of Ayuthaya and Sukhothai. The entire temple compound of Wat Pho is bisected into two by Chetuphon Road, with the northern side housing the temple hall (Bot) and other attractions, like marble slabs, cenotaphs, statues, inscriptions, rock gardens, chapels and belltowers. There is also a library with magnificent figures and pagodas. The southern walled section, known as 'Tukgawee', is home to a working Buddhist monastery and a school.
Another characteristic of Wat Pho that marks its popularity is its association with Thai massages. The temple is considered as Thailand's first university and the bedrock of traditional Thai massages. Stone inscriptions on the temple walls narrate the rich heritage of Thai massage from the reign of King Rama III. The site was also a major study center of traditional medicine of Thailand. Today, the place offers a number of ancient healing massage therapies and offers courses and trainings on traditional massages and reflexology techniques of Thailand. Admission charges for entering the temple ground are 20 Baht per person.