A vacationing destination with sun-kissed beaches may fascinate many. Taking languid strolls in spongy sands, with the foamy waters ceaselessly caressing your feet, the charm indeed is unbeatable - until you discover Bangkok. Imagine, visiting its exquisite monasteries and attractive malls during the day, followed by a rejuvenating spa experience or an ambling in any of its manicured park or garden in the evening. Once your tethered nerves feel invigorated, you are ready to start your explorations afresh and merge in its city nightlife. Bangkok is, in fact, a revelation for tourists who are looking forward to an ideal holidaying delight.
If the city hullabaloo will excite you, then solitude will not elude you either. Even though Bangkok has relatively few open areas, it has not failed to preserve some very well tended gardens and parks amidst its concrete extravaganza. These grassy lands are perfect retreat for those looking for tranquility and natural beauty. So, whether you go disco bopping, pub skulking or prefer a shopping frenzy, make sure to take out time to visit a few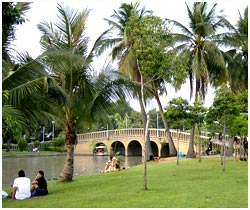 of Bangkok's gardens and parks. This article will help you get an idea of some of the best parks and gardens located in the Bangkok city of Thailand.
Parks & Gardens in Bangkok
Benchasiri Park
Shaded amidst high-ceilinged edifices on Sukhumvit Road, Benchasiri Park is a small, but well-maintained recreational area of Bangkok. The park poses a rather distinctive charm, mainly due to its unique positioning in the midst of urban clamor.
Chatuchak Park
Chatuchak Park is the biggest of all parks in North Bangkok and is popular for being the venue of the weekend Chatuchak Market. Set amidst lush surroundings, the park has lots of open spaces and also a boating lake. This makes it an ideal den for joggers and solitude-seekers. Moreover, its close proximity to the Central Plaza makes it a gamboling legroom for shoppers visiting the mall.
Sanam Luang
Sanam Luang, in front of the Grand Palace, was the former site of the weekend Chatuchak Market of Bangkok. Today, the grassy field of Sanam Luang is the perfect venue for conducting picnics, playing soccer and takraw games, flying kites or simply relaxing. Besides, Sanam Luang is used for royal cremation ceremonies and for celebrating birthdays of the King and the Queen. It also forms the annual setting for holding the Royal Ploughing Ceremony of Bangkok.
Lumpini Park
One of the oldest and most popular parks in Bangkok, Lumpini Park is situated at the intersection of Rama IV and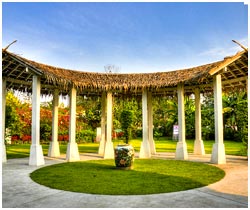 Silom Road. It borrows its name from Buddha's birthplace in Nepal. With a sprawling area of 57 hectares, it attracts a lot of early morning joggers, nature-lovers and Tai Chi practitioners. Lumpini Park also has two beautiful lakes, with paddle boating facilities, that make the park a perfect getaway from the city hubbub.
King Rama IX Royal Park
This 200-acre park situated on Si Nakharin Road is the most striking of all parks in Bangkok. Characterized by manicured lawns and blossoming botanical gardens, it commemorates King Rama IX's 60th birthday, in 1987. There is also a beautiful Oriental style building within its premises, which exhibits the works and life of King Rama IX. A restaurant set aside the sparkling lake of the garden provides the ideal ambience for enjoying its beauty.
Princess Mother Memorial Park
Located in the Khlong San District, this beautiful memorial park commemorates Her Royal Highness, Princess Sri Nagarindra, King Rama IX's mother. Built in 1993, it houses a full-scale model of the home of the Princess Mother. There are two exhibition halls located within its confines, which display the Princess Mother's life story and also provides a glimpse into the history of the nearby Wat Anongkharam community.
Queen Sirikit Park
Built in 1991, to commemorate the 60th birthday anniversary of HM Queen Sirikit, this lavish public park of Bangkok is just a stone throw away from the bustling areas of the Chatuchak weekend market. The park is a storehouse of a variety of recreational facilities that include a botanical garden, a rock park, a lotus field, three fountains and a Children Discovery Museum. For those who are interested in exotic varieties of plants or are looking for a place to spend a languorous evening, the Queen Sirikit Park is a must-visit.
Santiphap Park
The cityscape of Bangkok is known for its concrete wealth that juts out in the form of many titanic monuments, palaces and buildings. However, in the midst of this stony jungle in Thailand rests some utterly tranquil and green stretches such as the Santiphap Park.