Named after Buddha's birthplace, Lumbini in Nepal, Lumpini Park presents an ideal breathing space for many Bangkok people. Laid in a huge area of 140 acres, it is located in the business district of Bangkok, on the north side of Rama IV Road, between Ratchadamri Road and Witthayu Road. A display house of profuse greenery, in the form of grass, trees and gardens, the park is a favorite hangout for local Thais, expatriates as well as tourists. Besides its striking vegetation, the park is home to the Lumpini Public Library, which served as the first public library of Thailand.
What generates the unbridled popularity of the park is its overwhelming greenery that stretches all around. There are ripe trees and well-maintained gardens inside, which attracts swarms of early morning visitors, in the form of health-conscious citizens and Tai Chi practitioners. The open areas of the park are endowed with facilities like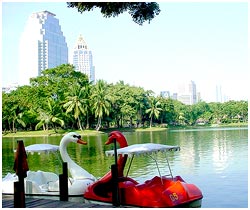 open-air gyms, courts for takraw and badminton, and bicycle tracks that are quite popular among the health freaks. Another distinguishing feature of the park is an artificial lake with boating facilities, which is especially thronged by tourists and children.
A statue of King Rama VI rests at the southwestern entrance to the park facing Silom. The statue honors the King, who bequeathed to his people the land on which the park stands today, in the year 1925. A Chinese-style clock tower, built in 1925, is also placed in the Sathorn corner of the park, which evokes the memories an erstwhile fair held in the park grounds before the King's death. A visit to Lumphini Park, especially during winters, is a must, when its Palm Garden features classical music by the Bangkok Symphony Orchestra and several other bands across the country.