Renowned as the world's largest teakwood building, Vimanmek Mansion was in fact once a royal residence. The mansion was used as a residence for few years and then forgotten. Her Majesty the Queen rediscovered it in the eighties and turned it into a complex of museums. The building now exhibits Thai heritage from the times of King Rama V.
Exhibits
The mansion has 31 exhibition rooms, with the bedrooms, the throne room and the bathrooms preserving Thai atmosphere. Some rooms show Thai art including silverware, ceramics, crystal ware, and ivory. The museum displays things from ancient artifacts of Thailand's pre-history to contemporary photographs donated by His Majesty the King. The museum in fact has now become a large complex of museums.
Brief History
After his return from Europe in 1897, King Rama V (1868-1910) purchased orchards and paddy fields between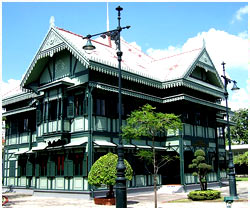 Padung Krungkasem Canal and Samsen Canal for developing of a royal garden. He named it Dusit Garden. Vimanmek Mansion was the first permanent residence in the Dusit Garden, built in 1900.
The completion ceremony of Vimanmek Mansion was held on March 27, 1901. King Rama V transferred his residence from the Grand Palace to stay permanently at Vimanmek Mansion for five years. Thereafter he went to Amporn Satarn Residence in 1906 where he lived until he breathed his last in 1910. King Rama VI (1910-1925) granted permission to Her Majesty Indharasaksaji to stay at Vimanmek Mansion.
Keep in Mind