Ayutthaya was the Thai capital for 417 years, before being replaced by Bangkok. Thanks to its tenure as Thai capital, Ayutthaya hosts many magnificent ruins and artworks. Ayutthaya was ruled by kings of several dynasties, bringing in so many architectural styles for Ayutthaya. Enjoy all this while on travel tour of Ayutthaya.
Historic Places
Significant historic places in Ayutthaya are Old Palace, Chantarakasem Palace, Bang Pa-in Summer Palace, Phom Phet and St Joseph's Church. Old Palace was built by King U-Thong in 1350. Later rulers built several palaces there. Chantarakasem Palace was used by King Rama IV of Bangkok as a summer retreat. Bang Pa-in Summer Palace, a palace built as summer retreat, was restored by King Rama IV. St Joseph's Church is the where Catholic Christians worshipped continuously over 300 years in Thailand.
Temples
Ayutthaya is also known for its temples. Some more famous temples you can visit on your travel tour are Wat Phra Si Sanphet, Wat Phra Ram, Wat Phanan Choeng, Wat Phu Khao Thong, Wat Chai Wattanaram, Viharn Phra Mongkol Bopit and Wat Phra Mahathat. Wat Phra Si Sanphet has been made famous by its three bell-shaped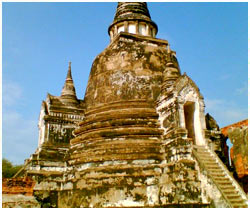 chedis, which have become a symbol of Ayutthaya. Wat Phra Ram known for its chedis and the towering prang. Wat Phanan Choeng is one of the most lively temples in Ayuthhaya. Wat Phu Khao Thong, having stark white chedi, is located amidst sweeping rice fields. Wat Chai Wattanaram is a monument of Old Ayutthaya. Viharn Phra Mongkol Bopit has a large Buddha idol, dating from the 15th century. Wat Phra Mahathat was built by King Boromaraja in the 14th century.
Museum and Crafts Centre
Bang Sai Royal Arts & Crafts Centre in Ayutthaya has been set up for promoting the traditional crafts. Established with the encouragement of Thai Queen, the foremost attraction in the crafts centre is the museum shop, built in Thai style pavilion. There is an aquarium and two aviaries too. Chao Sam Phraya Museum exhibits Ayutthayan Buddhist art as well as the famed gold objects found in Wat Raja Burana.
Festivals
Two festivals are particularly associated with Ayutthaya. These are Bang Sai Arts & Crafts Fair, celebrated in January, and Ayutthaya World Heritage Site Celebrations in December.