Wat Suthat is one of the oldest temples in Bangkok and one of the six temples in Thailand acclaimed with the status of a royal temple of the first grade. Located on Bamrung Muang Road, its construction started during the reign of King Rama I, in 1807. However, the temple, as it stands today, saw completion during the reign of King Rama III, in 1847. Considered one of the largest temples of Bangkok, Wat Suthat complex stretches for an area of 10 acres that include its vast temple area and monastic quarters.
Like the exterior of the temple, its interiors are equally outstanding. The main wiharn placed in a cloister is girdled by a circumambulatory area of three levels. There are small chapels on each of the four corners of the uppermost level. The Hall enshrines the 13th century Phra Sri Sakyamuni or 'Sisakayamunee', which is the largest and oldest bronze cast Buddha image in Thailand and was moved here from the Sukhothai province. The height of the statue is 8 m, with a base of 6.25 m, and the ashes of King Rama VIII are interred on its base.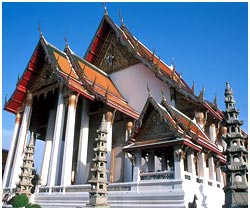 Besides the 'Sisakayamunee' image, Wat Suthat also houses a Phra Buddha Trilokachet in its Ubosot (Ordination Hall) and a Phra Buddha Setthamuni in its Sala Kan Parien (Meeting Hall). Moreover, the cloisters enclosing the wihan have more than 150 Buddha images along the outer wall. The lower terrace of the base displays 28 Chinese pagodas, each symbolizing all the Buddhas born on earth. There are also many bronze horses and figures of Chinese soldiers, which were brought to Thailand to serve as ballast during the regime of King Rama I.
What mark the most significant aspects of Wat Suthat are its magnificent wall paintings and murals that spreads over an area of 2565 sq. m. Their creation started during the rule of Rama II, but saw completion only during the later years of Rama III's regime. They transcribe the Jataka Tales and the columns depict scenes of the ancient history of Bangkok. They also show a striking Western influence and subtly deviate from classical Thai paintings. Today, Wat Suthat forms a major attraction of Bangkok and is visited by both Buddhist as well as Hindu devotees.