Bangkok doles out tons of fun activities for both young and the old. Just as the miraculous nightlife of Bangkok is inviting for all those adventurous nocturnal hunters, the amusement parks of the city are powerfully appealing to the young and those young at heart. One such brilliantly laid out theme park in Bangkok is the Wonder World Fun Park. With countless nerve-racking rides and attractions, it is one of the most amazing amusement parks in the city. In case you are Thailand-bound on your next vacation and plan to halt in Bangkok for a few days, do not forget to take a quick trip to the place.
Wonder World abounds in rides and other tourist draws. Especially, the rides and swings are perfect grounds for testing your nerves. For those who are on the lookout for real thrills, the 'Tower Drop' and 'Tower Shot' are something you should not miss. These rides will escalate you to unbelievable heights towards the sky and then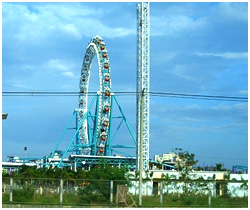 drop you down at equally unbelievable speed. No doubt great to go for, but only if you want a deadly combo of lightheadedness and pleasure. Some other popular rides include a Ferris Wheel, a Rodeo Bull, Red Baron, Ball House and the Crazy Bus.
A great spot for kids to grab some fun is the 'Water Symphony' - a dazzling fountain that squirts water, accompanied by sweet musical notes. Besides, the park also has the 'Wonder World Stage', which forms the venue for conducting many gripping concerts and exclusive events. In addition, when it comes to edible knick-knacks, Wonder World dishes out countless international delicacies in its food center and The Buffet Terrace. Just by paying 150 baht at these places, you can gobble down several international platters of your likes. So, don't wait. Unleash your adventurous self at this wonderful fun park of Bangkok.