Bangkok undoubtedly proffers some of the most enriching moments of Thailand travel. The city, flanked by tantalizing attractions, presents limitless delights for the tourists. However, exploring the excitements trapped in the city demands that you have a good idea regarding its various means of intra-city transportation. Understanding the local transport system of the place will make internal traveling comfortable and enjoyable for you. It will also ensure that you get to see all the sights the place has to offer. In the following lines, we have provided information on the various public transportation facilities of Bangkok.
Buses
One of the most cost-effective ways to explore the city is to board a bus. The city buses in Bangkok, operated by the Bangkok Mass Transit Authority (BMTA), boast of being the largest city bus system in the entire Thailand. Some buses are also managed by various private operators. The minimum fare is 7 baht, while AC buses charge a minimum fare of 10 baht. Besides, the AC microbuses have a flat charge of 25 baht for all routes.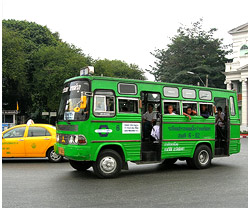 Taxis
As compared to buses, taxis prove to be a bit costlier option for traveling around Bangkok. However, the best part is that these taxis are metered, so you do not have to haggle with taxi drivers regarding the fare. You need to pay a minimum fare of 35 baht for the first 3 km and around 5 baht for every additional kilometer thereafter. In case of using expressways, passengers also need to pay toll taxes. Ensure to carry some loose money, as taxi drivers often do not have change.
Tuk-Tuks
Tuk-tuks are motorized three wheelers that are suitable for commuting short distances around the city. In fact, these ubiquitous open-air taxis can easily fit in three passengers and are often the most preferred mode of transport amongst tourists. However, they are not metered and you will have to negotiate and settle the fare beforehand. Normally, the minimum fare for a journey of up to 3 km is near about 30 baht.
BTS Sky Trains
Bangkok Mass Transit System (BTS) or Sky Train, the elevated metro system operated by Bangkok Mass Transit System Public Company Limited (BTSC), is one of the quickest and safest options of cruising through the various provinces of the city. These trains shuttle along Sukhumvit, Silom and Phahonyothin roads. Fares are quite nominal, ranging from 10 baht to 40 baht, depending on the distance of travel.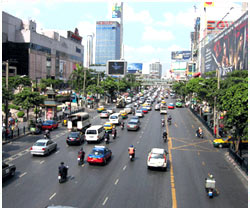 MRT (Metro)
Mass Rapid Transit (MRT), or Metro of Bangkok, is popular as 'Rotfai Taidin' in Thai, literally translating to 'underground train'. With its fleet of trains, the metro network provides an excellent citizen-centric railway service to people. This subway system of the city plies on a daily basis, from 6 am until midnight, and links many tourist attractions, markets, hotels and various business districts of Bangkok. The fare ranges between 14 baht and 36 baht.
Boats
Another popular local transport is the Chao Phraya Express Boat, a marine bus plying up and down the Chao Phraya River. No tourist visiting Bangkok should miss the opportunity of gliding on the river on this waterbus. Besides, tourist boats, canal boats and long-tail river taxis (Rua Duen) are equally good options for water travel. Many of these aquatic transportations serve various landing stages on either side of the banks and travel to as far as Nonthaburi.