Located in Pathum Wan district, Siam Square is a notable area of Bangkok. The place is a hub of shopping and entertainment extravaganza, and presents an unending line of shops, boutiques, restaurants, Hard Rock Cafe, hotels, tutor schools, record stores, bookshops, movie theaters and banks. Due to its riches of shops and services, Siam Square attracts a large number of visitors, comprising of both local inhabitants and the tourists visiting the capital city of Thailand.
With its incalculable clusters of shops, both big as well as small, Siam Square holds a magnetic appeal for everyone who delights in shopping. Amidst the complex lattice of its streets, also stand some of the oldest movie halls of Bangkok. Besides, the place also abounds in a number of designer boutiques, managed by some of the highest-flying designers of Thailand. Some cloth stores also sell trendy outfits created by young upcoming designers.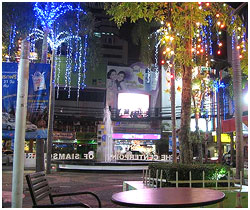 Whether it is the grand idea of dining in an exclusive restaurant, picking a fashionable dress, watching a movie, or whiling away to glory window-shopping; Siam Square offers all the options. Apart from its many high-ceilinged tenements, another feature that bolsters its popularity is its central location. Delimited by Henri Dunant, Rama I and Phaya Thai roads, it easily links to other key shopping centers and shopping districts of Bangkok, via the sky bridge.