Thailand is home to an enchanting variety of arts and crafts. The profusion of natural materials, like palm leaves, rattan, wicker and coconut, is the main reason behind the availability of a large number of handicrafts in the country. However, what lends the exquisiteness to Thai handicrafts is the ingenuity and dexterity of Thai craftsmen. Preserved and nurtured across centuries, their skills, passed down from one generation to the other, mirror the rich history of the Siam Kingdom. Most importantly, Thai arts and crafts especially seem to burgeon in and around the capital city of Bangkok. In the following lines, we have provided information on the different handicrafts found in Bangkok.
Celadon Wares
Celadon is high-fired stoneware, with a wood-ash glaze. Originally belonging to China, it today forms an intrinsic part of Thai handicrafts. Although, literally celadon translates to 'green stone', modern approaches to firing celadon have led to the development of a wide variety of contemporary shades. From jugs and plates to different decorative pieces, celadon wares are available in a number of designs and colors today.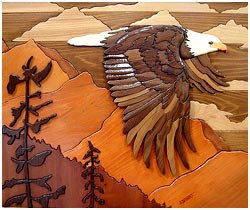 Khon Masks
Khon masks form a part of the 'Khon Drama', the Thai version of the Indian epic 'Ramayana'. Amongst all the Thai handicrafts, making a Khon mask is probably the most complex. The craftsman who makes such a mask must be skilled at various techniques, including modeling, carving, sculpturing, painting, lacquering and gilding. These colorful masks are molded into different characters like demons, hermits, monkeys and other mythological characters.
Lacquerware
Lacquerware is an important craft technique of Thailand. Lacquer, or 'rak' - as it is known in Thai, is the resin of a plant. In this art from, an object is first coated with black lacquer and then, the black background is gilded with gold leaves. Apart from such Gold-Leaf lacquerware, multicolored lacquering can also be done. Today, the art of lacquerware is used to shape a broad range of utilitarian as well as decorative items.
Thai Silk
One of the best bargains in Bangkok is undoubtedly the caressing fabrics of Thai silk, especially 'Mat Mee' Thai silk. Available in a wide variety of colors, designs and patterns, it can be purchased either in the form of ready-made clothes or simply by the yard. Apart from clothes, Thai silk is used to manufacture different objects, including gift items like flowers, bed linens, pillowcases, scarves, neckties, shawls, kerchiefs, handbags, etc.
Mother-of-Pearl Inlaying
One of the most magnificent of all Thai handicrafts is the mother-of-pearl inlay work, with its distinctive style. The most popular seashell of Thailand is used in this art, known as the hoi fai or flame snail. From times immemorial, the craft has been used to beautify temple doors and windows, holy images, palace thrones and other valuable objects. Today, the craft finds application in making exquisite furniture, mirror frames, boxes, lamps, etc.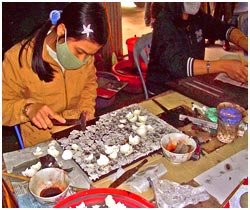 Doll Making
Doll making is an important artistic feat of Thai people. Various aspects of Thai tradition and culture find skilful representation through this art. Miniature figures of dolls, molded from fired clay and painted with vibrant colors, are very popular. Handmade dolls, donned in native costumes like flamboyant theatrical outfits and colorful tribal costumes, were earlier made only in Bangkok. However, it has now slowly penetrated to other areas of Thailand also.
Nielloware
Making objects of neilloware is an ancient art prevalent in many countries, including Europe. In Asia, it finds place in the culture of Thailand and India, with each country giving the art a unique form. Here, the various lines of a design are first engraved in the metal. It is then filled up with a black lead alloy, giving effect to the intaglio picture. Generally, neilloware is made of either silver or gold, as the lead alloy fails to adhere to other metals, like copper or bronze.
Wood Carving
Wood Carving has been done in Thailand from many centuries. Thai craftsmen are especially deft in this art form, handing down their expertise from one generation to the other. Both males and females are engaged in wood carving, with men doing most of the heavy carvings and women doing the less-strenuous sanding and ornamenting. Delicate carvings are sculpted on laths of raw timber, and painted, lacquered or gilded. From beautiful picture frames, furniture, figurines and lamps to utensils, Thai woodcarving shapes various items.