The Chinese community that resides in Thailand exerts a very strong influence on the overall cultural heritage of the country. The celebration of Chinese New Year, especially in the capital city of Bangkok, pronounces the fact. Not only Chinese, but even ethnic Thais participate in the thunderous merriment of the festival that normally falls in February every year. It mainly sees celebration in the so-called Yaowaraj area of Bangkok, which is Bangkok's Chinatown. The two-day carnival draws huge amounts of tourism revenue, as many Chinese visits Thailand to witness their traditional New Year revelries in the country.
The arrangements for the event begin days before, starting with the ritualistic sweeping of the grounds, which is believed to lure good luck and prosperity and ward off everything that is negative. According to legends, the demonic beast 'Nian', who feasted on humans during the eve of Chinese New Year, was afraid of only three things - red color, fire and loud noises. This explains the accompaniment of the New Year merriment with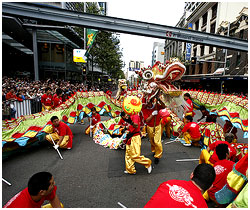 crackers and copious use of the red color. It is a ritualistic way of fending off bad luck and evil spirits. Besides, it also espouses the importance of communal harmony and conviviality.
During the event, people deck themselves in red outfits. They inscribe auspicious wishes on red paper scrolls and dangle them in the doorways, as a means of luring luck, prosperity, and inviting good family relations. They also exchange red envelopes containing money and good wishes, in order to celebrate the spirit of profusion. Family members also exchange bagfuls of mandarin oranges that are emblematic of gold and believed to herald good luck and fortune. Deafening firecrackers shriek the entire night announcing victory over darkness and unholy spirits.
Celebration of Chinese New Year also brings to light the exoticism and effervescent aspects associated with the traditional Chinese culture. 'The Procession of the Golden Dragon' and 'The Lion Dance' adds on to the vibrancy of the event. The flamboyant apparition of the Dragon King, who comes to bless the people, and the acrobatic skills displayed in the Lion Dance, between the Lion and the Fan Bearer (God of Smiles), attracts people in large numbers. People come here to witness the traditional culture conquering great heights with feisty ritual demonstrations.
Another integral element of Chinese New Year is the significance of family values and unions. Reunion dinners on New Year's Eve are common. People visit religious places and pay homage to departed ancestors, seeking blessings for domestic happiness and good health. In addition to that, people also put much emphasis on eating. Generally, people believe in eating a variety of dishes, including whole foods like chicken and fish. Every household cooks a storm, and even offers food to deceased ancestors. Thus, with so much in store, Chinese New Year offers the best time to visit Bangkok and partake in the exotic culture, tradition, celebration, and cuisine of the pulsating area of Chinatown.