When you are through the tourist attractions of Bangkok, you can visit the neighborhood places which are as good as the places in the city. There is Ayutthaya, which served as the Thai capital for more than 200 years. There is Kanchanaburi, known for places like Death Railway and Bridge of River Kwai. Kanchanaburi also has some very good museums and flora and fauna rich national parks. Ko Kred, a man-made island on Chao Phraya river, is known for its traditional pottery. Lopburi is mentionable for its historic ruins which tell tales about history.
Bangkok neighborhood tours give one a chance to get away from the hustle and bustle of the metro. For a person interested in history, Ayutthaya will offer immense pleasure. Added to by several kings, Ayuttahya comes forth with different architectural styles. In Kanchanaburi, Death Railway and Bridge of River Kwai tells us a lot about the oppression people of Thailand faced during the days of Japanese occupation. The museums tell a lot about the province's history while national parks come natural to it. If you want to catch glimpses of rural Thailand, Ko Kred could give it to you. Lifestyle of the people in Ko Kred hasn't changed for centuries. For seeing more historic ruins, Lopburi is a good place.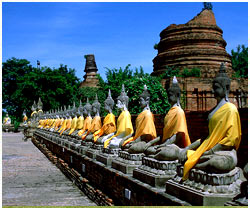 You can make Bangkok your base and go on these satisfying excursions. Few tourists in Bangkok forget to enjoy these travel-worth excursions. And you don't even need to take a night halt there. You can leave at morning, enjoy your stay there and return late evening, having your dinner in Bangkok. You can hire a car and go on excursions in Bangkok. And we can assure you, you will have fantastic time. You number of excursion depends on the time you pass in Bangkok. The more time you pass, on more excursions you will be able to go.
Ayutthaya
Ayutthaya was the Thai capital for 417 years, before being replaced by Bangkok. Thanks to its tenure as Thai capital, Ayutthaya hosts many magnificent ruins and artworks. Ayutthaya was ruled by kings of several dynasties, bringing in so many architectural styles for Ayutthaya.
Kanchanaburi Travel
Kanchanaburi, a choice of backpackers, is at two to three hours journey from Bangkok. Tourist attractions in Kanchanabari are Death Railway, Bridge of River Kwai, the museums, Erawan National Park, Sai Yok National Park, Prasat Muang Sing Historical Park and Caves.
Ko Kred Travel
Ko Kred, a man-made island on Chao Phraya River, is located 20 km off Bangkok in Nonthaburi province. A visit there would enable you to catch a glimpse of traditional rural life in Thailand. Mon people have been living on the island for generations and pottery is their only meaning to earn a livelihood. Their way of life hasn't changed for centuries.
Lopburi Travel
Lopburi, a neighboring province of Bangkok, formerly known as Lawo, was an important place during 10th to 13th centuries. King Narai set up Lop Buri as his second capital with the help of French architects. The period is known as Ayutthaya period in Thai history.