Kanchanaburi, a choice of backpackers, is at two to three hours journey from Bangkok. Tourist attractions in Kanchanabari are Death Railway, Bridge of River Kwai, the museums, Erawan National Park, Sai Yok National Park, Prasat Muang Sing Historical Park and Caves. Tour travel to Kanchanburi gets you across all these attractions.
Death Railway
The Japanese Army, which annexed Thailand during the Second World War, compelled thousands of Thais to build the railway line from Thailand to Burma for moving their soldiers and material. Hundreds of Thais died during the construction, giving the railway line its fearful name. Sections of this route are still in use.
Bridge of River Kwai
Japanese Army had forced the war prisoners to assemble the bridge of River Kwi. It suffered bombing several times and was rebuilt after war.
The Museums
War Museum, located near the River Kwai Bridge, showcases the collection of weapons, tools and utensils used by the Allied POWs and the Japanese during Second World War. The JEATH War Museum resembles an Allied POW camp. The thatched huts contain bamboo bunks and war memorabilia.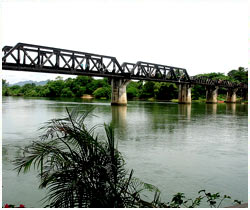 Erawan National Park
The park is visitable for its falls, cavers and flora. The 7-tiered Erawan Waterfall is one of Thailand's most impressive falls. A pleasant 2-km hiking trail ascending beside the falls is a challenging activity. Tham Wang Badan, a large limestone cavern, is on the west side of the park. The caver has several colorful stalactites and stalagmites.
Sai Yok National Park
Sai Yok National Park is known for its pleasant river scenery and lovely falls. The most visited attraction is Sai Yok Yai Waterfall where the water falls directly into the Kwai Noi River. The Sai Yok Noi Waterfall is closer and easily reachable.
Caves
Lawa Cave and Daowadung Cave, located beside the Kwai Noi River, can be accessed by boat. The caves have numerous beautiful stalactites and stalagmites, as well as the world's smallest mammals, the 3-cm long bats. Visit to the caves is quite an adventurous task.
Prasat Muang Sing Historical Park
Prasat Muang Sing Historical Park, an ancient site on the banks of the Kwai Noi River, is believed to be the westernmost outpost of the Angkor-centered Khmer Empire. Artifacts harking back to the twelfth and fourteenth centuries are found here.
Kanchanaburi Tour
Kanchanaburi is a good base for exploring the province. Adequate public transport makes traveling in the province easy.
How to Reach
Buses for Kanchanaburi leave from Southern Bus Terminal of Bangkok. Trains are available from Noi Railway Station of the metro.