Those who believe in the idea of 'shop until you drop' should head to the Chatuchak Weekend Bazaar in Bangkok, which is amongst the largest weekend markets not only in Thailand, but in the whole world. You can find absolutely every imaginable thing in the stalls here - clothes, shoes, jewelry, toys, foods, handicrafts, antiques, furniture, and even pets like singing birds, fishes, dogs, etc. So, in case, you plan a trip to Bangkok, make sure to take a round of the Chatuchak Market and experience the pleasure of shopping in the city. It is easily accessible from the Mo Chit station.
The entire market covers an estimated area of 35 acres and is flooded with almost 15,000 individual stalls that pour out items in almost all shapes and sizes. Whatever is your quest - a rug for your living room, a ceramic teapot for your kitchen, a doll for your niece, an amulet for granny, a CD for a cousin, or some trendy outfits for yourself, you can grab them all here. Once inside the market, you can see the wealth of eye-catching items that brim over each stall. Not only can you make some good bargains on Thai products culled across the country, but can also find treasured items picked from different corners of the globe.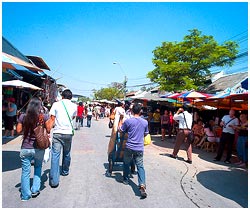 The unending maze of shops will provide you the required grounds to test how good a bargain hunter you are. In fact, make sure to negotiate the prices of all the items you intend to purchase here, as it is almost customary, if you want to make some good deals. Therefore, if you can rely on your negotiating skills, you leave with loads of fine catches from this market. In fact, a trip to the bazaar warrants that you do not return home empty-handed. Besides, if you go low on cash, there are facilities like ATM and foreign exchange booths at arm's length. Besides, with hordes of tourists, it is also a good place to window shop and people watch.
Once you are tired and sweat-drenched from scanning the shops and haggling for prices, you can check out the numerous restaurants and eateries located inside the bazaar. The range of food is limitless and very reasonably priced. A whole string of eating joints doles out food items ranging from beverages, iced drinks, snacks, and a variety of Thai-style fast foods. In case, you want to taste some unique food, you can even purchase fried grasshoppers and other creepy-crawlies from the insect stalls of the place. Remember, that the market is open only on Saturday and Sunday, from 6 am to 6 pm, though some shops also remain at your service until 8'o clock at night.