Fabricated entirely of golden teak, the Vimanmek Palace is situated on Ratchawithi Road and claims the distinction of being the largest golden teakwood mansion in the world. Built by the royal command of King Rama V, in the year 1897, the three-storied mansion is a brilliant fusion of Thai craftsmanship and European architectural style. The mansion originally served as the Summer Palace of the King - the Munthaturaltanaroj Residence, located on the Sri Chang Island.
However, under the supervision of HRH Prince Narissaranuwaddhiwongse, the mansion was dismantled and restructured in the palace compound of The Dusit Garden. The construction work saw completion on March 1901 and the King took up his residence in the mansion the same year. Originally built upon the return of the King from Europe, the building incorporates a lot of western motifs and designs in its architecture.
The palatial building is huge, with 81 rooms, foyers and halls. The main section of the building, where the King resided, is four-storied and octagonal in shape. Two right-angled wings, each 60 m long and 20 m high, flank the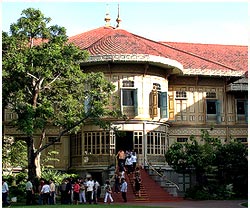 structure. The King resided in this mansion until 1906, before he moved to the Amporn Satarn Mansion. Thereafter, the building remained vacant for more than a decade. In 1925, HRH Indharasaksaji, wife of Rama VI, came to stay in the place.
After the death of Rama VI, Vimanmek Royal Palace remained unused for many years and was used as a storehouse of the Royal Household. Finally, in 1982, HRH Queen Sirikit initiated the project of opening it to the public, in the form of a museum dedicated to Rama V. With 31 display halls, the place today reflects various aspects of Thai heritage and culture. Apart from the exhibition rooms, the other buildings housed within the compound are also used as museums.
Ceramics, glassware, ivory items, antique furniture, old photographs and royal memorabilia form a major part of the various exhibits. One of the most fascinating of all the museums is the Abhisek Dusit Hall, which puts on display HM Queen Sirikit's private collection of handicrafts made by rural people. An admission fee of 100 baht is charged for entering the palace compound and it remains open from 08:30 am to 4:30 pm everyday.