Museum of Buddhism Art in Bangkok is known for its large private collection of Buddha images. Operated by The Foundation of Thais Arts Preservation, the museum exhibits Buddha images in international atmosphere. The museum also throws light on the history of Buddhism in Thailand. The museum is a useful source of knowledge for anyone interested in Buddhist art and Buddha sculptures. Even a casual visitor will find interest in it.
Standard of Presentation
International level standard of presentation in the museum makes the whole experience complete. The atmosphere comprises of light, sound (chanting), scent (incense), and all this comes with and air-conditioner.
Exhibits
The museum exhibits Buddha images and artifacts of different periods in Thai history. Figures in the museum date back to 6th century AD. An area in the complex hosts a shrine. Major gods of various beliefs in Asia grace the complex. You are advised to start your tour in an annex to the main building that houses the Kuan Yin Palace. See the statue of Kuan Yin, the Goddess of Mercy. The courtyard outside this museum has six miniature wooden palaces housing Chinese deities.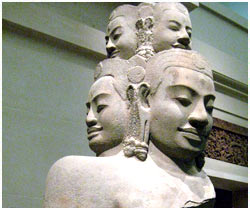 Buddhist Arts in Museum
Arts which have found place in the museum are Dvaravati art (6th - 11th centuries AD), Srivijaya art (7th - 14th centuries), Khmer art (11th - 19th centuries), Burmese art (11th - 19th centuries), Sukhothai art (13th - 15th centuries), Ayuthaya art (1350 - 1767), Ayuthaya art (1350 - 1767), Lan Xang art (14th - 18th centuries), Thonburi art (1767 - 1782) and Rattanakosin art (1782 - present). The Buddha idols and sculptures during the reign of the Chakri monarchs developed a distinct identity. Some rooms in the museum display artifacts from the pre-historic Ban Chiang culture, Yao paintings, stone sculptures.
Location
The museum is located at Soi 40 at Phatthanakan Road, Suan Luang in Bangkok.
Opening Time
The museum is open Monday to Saturday from 10 am to 5:30 pm.