Located in the old city of Rattanakosin, in Bangkok, Monument to the Expeditionary Force is a war memorial. It is dedicated to Thai soldiers who lost their lives on the Western Front in the World War I that broke out during the reign of King Vajiravudh or King Rama VI. Like the United States, Thailand adopted a neutral stance during the initial periods of the war. However, when the USA entered the war, Thailand too joined hands with the Western allies. It declared war on Germany and sent militia to Europe.
Thai expeditionary force valiantly fought in the European battlefield, but lost 19 veterans during the war. After their return to Thailand on, the ashes of these 19 martyrs saw ceremonial sanctification in the Wat Mahathat nearby. These ashes were then encased in the monument in September 1919. Thus, the edifice is a memorial to these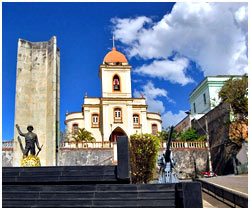 heroic soldiers, who answered the clarion call of duty to their king with a dauntless and brave heart.
Today, the white monument sits at the northern edge of Sanam Luang, near the National Gallery of Bangkok. A huge chedi-like spire crowns the four-sided structure. The names of the dead soldiers are engraved on the sides of the monument - 9 on the eastern plane and 10 on the western plane. A well-tended garden, with spruced hedges, surrounds the structure on all sides. People who cherish and remember the selfless sacrifice of these soldiers often visit the place and offer flowers, wreaths and garlands at the site.