Bangkok Doll Museum and Factory showcases an interesting collection of Thai and foreign dolls. All dolls presented here are made by a local factory. The museum entertains the guests and, at the same time, it enhances sales for the factory too. Visiting the doll museum is fun for the visitors, no matter to which age group they belong.
Features of the Museum
.
The Doll Museum features both modern and antique items. While inspecting the museum, you get an idea how the old practice of making dolls has been passed down over the decades. The dolls are made of children and adults of various age groups. Some dolls would be liked by the kids, some would be preferred by older children, some by teen and some would attract even the adults. .
Dolls in the museum are handcrafted by fine artisans, as they have been for generations. These dolls could be perfect souvenir for you to carry home. Even if you are not with your kids, it would be tough for you to resist the idea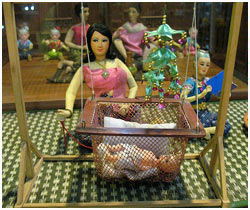 of buying one or two dolls for your children. .
Doll Sales Point.
Within the museum complex, there is a retail shop too. Visitors can purchase their favorite dolls at the shop. The rates are reasonable and after ambling the galleries of the museum, you will get a pretty good which dolls to purchase. .
Location.
Bangkok Doll Museum is located on Soi Ratchataphan, off Ratchaprarop Road. .
Opening Time
.
The museum is open daily, save Sundays. The time is 8:00am to 5:00pm.