It would not be an exaggeration to say that many people visit Thailand to savor the exotic cuisines of the place. The country offers an amazing range of culinary delights, internationally recognized for their distinctive flavors. Owing to the cultural heritage of the place, traditional Thai food is a mouth-watering fusion of Chinese, Indian, Malaysian and Portuguese recipes, to name a few. However, the country expertly blends the foods of these different regions, and comes up with its unique food culture and cuisine. Moreover, when it comes to the capital city of Bangkok, the gastronomic range is just unending.
The whole city wafts with the melting aroma of mouth-watering food. Food carts and snack stalls are common sights on every street corner. Often, you will come across pavement eateries with collapsible tables and chairs. These street foods not only lend the delightfully pungent aroma to the air, but are also a treat to the eyes,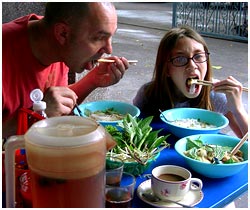 especially with colorful garnishes. The fact that Thailand is an agricultural land with bountiful products reflects best in these eateries, with their stockpile of products. Besides, the ease with which street vendors master the art of chopping fruits and vegetables is enough to make your stomach growl with food cravings.
Thai people are also gifted cooks, which is another reason to sample the local platters of Bangkok. Leaving aside the commonplace red, yellow and green curries that are considered as authentic Thai delights in the West, you will be amazed to see the huge array of traditional cuisines that the place actually can boast of. Generally, people in Bangkok prefer eating steamed rice (both sticky and non-sticky), with a variety of side dishes like curries, broths, dips, soups, etc. Fresh herbs and spices, like lemongrass, sweet basil, ginger, garlic, spring onion, red and green chilies, find generous usage in different recipes.
Many local dishes are also prepared with sour tamarind, shallots and coconut milk. Another ingredient that is extensively used in dishes is pungent fish sauce (Nam Pla). Moreover, Thai cooking style calls for stir-frying, steaming, deep-frying and grilling. Therefore, fruits, vegetables and even meat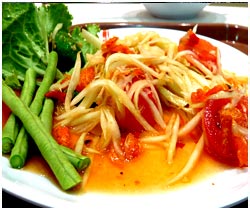 are cut into small bite-sized pieces. Like the case with most Thailanders, the people of Bangkok are avid lovers of non-vegetarian food. Therefore, meats like pork, beef, chicken, lamb, etc find a special place in many of the traditional dishes.
For food connoisseurs who would love to savor some unusually delightful and scrumptious cuisines, options are many. Choices include creepy-crawlies like grasshoppers, frogs, water roaches, beetles, bamboo caterpillars, ants, crickets, scorpions and shrimps. Those who prefer not to experiment, should try Thai dishes like 'Khao niew ma Muang' (Sticky rice garnished with sweet coconut cream, roasted sesame seeds and mango), 'Pad Thai' (Fried noodles with eggs, peanuts, tofu, beans, tamarind juice and sometimes, shrimps and squids), 'Pad Kaprao' (meat with holy basil leaves) and 'Kaeng khieo wan kai' (Chicken with coconut cream, green chili paste and Thai aubergine).