Chinatown district is one of the oldest areas in Bangkok and one of the most exciting places to amble around, while in the city. An impressive and colossal Chinese gate marks the entrance to China Town area, at Odeon Circle, and the place stretches until the Ong Ang Canal, which marks the outer boundaries of the royal district. The history of China Town dates back to 1782, when the Chinese immigrants came to settle in the place under the imperial regime of King Rama I. Thus, one can witness a huge population of Chinese here, who have been residing in Thailand from ages.
The most prominent tourist attraction of Chinatown is the Wat Traimit, located near the intersection of Charoen Krung and Yaowarat Road. It enshrines a 3m Buddha image, made of 5.5 tonnes of gold, which is also the largest solid gold image of Buddha in the whole world. Another tourist hotspot is the Yaowarat Road. It is Chinatown's main street and stands hemmed with innumerable shops that sell gold at very reasonable prices. Apart from that, the eateries here are renowned for their authentic Chinese cuisines, ranging from dripping bird-nests soup and shark fin soup to piping hot dim sums and Szechwan noodles.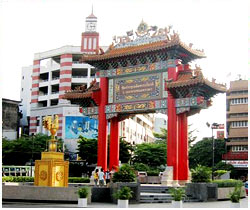 Sampeng Lane is another busy street of Chinatown. Even though the place does not provide any great shopping delights, just walking down its narrow street proves to be a very good experience. Especially, the Tang To Gung gold shop and an old Chinese pharmacy located here are worth a visit. To the north of the western end of Sampeng Lane is the Nakhon Kasem or the 'Thieves Market', lined with shops selling antique Thai and Chinese items. There are also many shops here that sell second-hand items at unbelievingly low prices, which make it very popular amongst both locals and tourists.
However, the original main street of Chinatown is the small narrow alley that runs from the Phahurat Market to Songsawat Road. The place sells only cheap household items and is no match to the actual Chinatown of today. Phahurat market is located on the fringe of Chinatown and is an interesting area to explore Indian fabrics and Indian cuisines. In fact, the whole of Chinatown offers tourists many pleasant alternatives amidst its bustling markets and inviting ambience. A trip to Bangkok, especially during the event of Chinese New Year, calls everyone for a quick visit to this colorful district of Chinatown.