'The Emporium', located in Sukhumvit Soi of Bangkok, is the ultimate place to feast your heart with different forms of entertainment glees. Shopping in this seven-tiered arena, with its overwhelming piles of clothes, accessories, gadgets, furniture, sports items, cuisines, and much more, will haunt you for days to come. With shops from every corner spilling out with every form of luxury imaginable, The Emporium is like a world of its own. Ranging from some of the most luxurious handicrafts of Thailand to some of the most sumptuous platters of the Kingdom, the place dedicates itself to countless delights.
For fashion aficionados, shopping in Bangkok without a visit to The Emporium is undoubtedly a sin. The first three floors of the mall make different fashion statements, each beaming with a singular beauty. The ground floor drapes in some of the top-notch brands of the world that will simply make you scream in pleasure. As you ascend to the next level, you will be completely flabbergasted at the range of seductive international designer items, shiny leather stuffs and jewelries that are simply out of this world. The second floor, on the other hand, offers a spectacle with its collection of trendy wears and designer lingerie.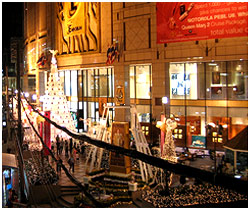 Those whose appetite satiates only with gadgetry and gear should check out 'Pleasure & Leisure' - the third floor kingdom of gadgets. It is packed with a huge array of electronic delights, ranging from audio, visual to digital. There is also the 'Global Sports Mall' at this level, which offers a huge range of golf accessories and other sports items. An escalation to the fourth floor will take you to the 'The Living Gallery' - a world of discovery for those who are fascinated by home and interior décors. From divine Victorian fittings to contemporary furniture, the place has everything that claims to add to your lifestyle.
Once in the 'Exotic Thai' gallery, you can witness how beautifully traditionalism and modernity have been amalgamated, to bring out the best of both worlds. Inspect 'Design Source', with its eclectic collection of lamps, mirrors and figurine, and head to the 'CVN Art Centre', to examine the beauty of modern contemporary Asian art. The fifth floor is an exhilarating assortment of different household appliances, silverware, porcelain and a scintillating variety of crystal items. On the topmost level is the 'Thailand Creative & Design Centre' (TCDC) that has two modern exhibition spaces and Asia's largest design library.
If, by now, you are exhausted and vying the desire to throat down a cup of coffee, just stop at the 'Creative Coffee Space', with jazz music undoing your tattered nerves. Else, simply dive onto a stimulating spa experience at 'Sense and Spirit Spa'. Add that final lavish touch, by scanning and sampling the host of mouthwatering delicacies at either of the two food courts. One offers authentic Thai dishes, while the other doles out a variety of international cuisines. Wind up your dream day by catching a movie at the well-appointed cinema and leave for home with a wide smile and bagfuls of imported goodies from the ground floor supermarket of The Emporium.