Whether you like to try your hands at bowling, gobble good food, watch a Hollywood flick or doll yourself with some trendy outfits, just hit Seacon Square, on Srinakarin Road, in the south of Bangkok. Located near the IT mall called 'Seri Centre', Seacon Square is one of the largest shopping and entertainment complexes of Thailand as well as the whole world. Covering an overall area of 34 acres, this lofty five-storey edifice is more than 500 meters long and also features two huge basements.
The building not only has a magnificent façade, but equally striking interiors, with three unique decoration styles. The city zone exhibits vibrancy associated with shopping through its animated colors. The Main Atrium decks with greenery, fountains and statues. On the other hand, the decoration of the nature's zone typifies natural beauty and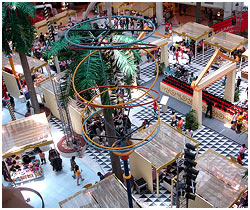 splendor. Excluding its beauty, the host of recreational facilities also magnifies the popularity of the place. Especially, the 18-hole-mini golf course and bowling alley is much popular among the young crowds.
There are over 400 specialty shops in the building, which make shopping in Seacon Square an unending affair. You can pick a variety of items, ranging from chic clothes and leather items to designer shoes, souvenirs, toys and foods. For gizmo freaks, two levels of the floor house the Seacon IT market that offers an amazing range of electronic items. The huge cinema complex, with 14 theatres, and the large indoor and amusement park of the mall are two other eye-catching features. On top of that, the mall also features a large food court, with about 30 food shops that cull some of the best delicacies from the Orient.