Wat Bowonniwet is an important religious center, located on Phra Sumeru Road in the Banglamphu area of Bangkok. Erected in 1829, the dazzling temple, with its magnificent chedi, is visible from a great distance. Like its ornate exteriors, the interiors of the temple are equally spellbinding, with an embellished shrine hall of Phra Phutthachinnasi, a beautiful Buddha image molded in 1357. Aside from its beauty and graceful symmetry, another fact that entails the popularity of Wat Bowon Niwet is its rich history.
The temple earns credit as a Royal Buddhist Monastery of the Dhammayut tradition. In fact, its history began with the arrival of H.R.H. Prince Mongkut, in 1836. He was ordained for twenty-seven years and served as the abbot of this monastery for fourteen years. Later, he left the Order and ascended the throne as King Rama IV, upon the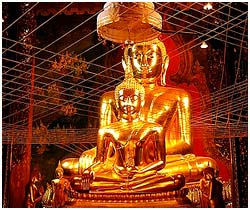 death of his brother. In fact, many Chakri kings resided here during their monkhood, including King Rama IV, King Rama VII, as well as His Majesty King Bhumibol Adulyadej (King Rama IX).
Before the arrival of Rama IV, as the prince 'bhikkhu', the temple site clasped two monasteries - Wat Mai to the east and Wat Rangsee to the west. Both these monasteries remained separated by a canal. During this time, the prince bhikkhu, Rama IV, assumed the position of abbot at the Wat Mai. Eventually, during the reign of the sixth king, both the monasteries merged, giving rise to the expansive temple compound of Wat Bowon Niwet. Today, the temple is also home to the Mahamakut Buddhist University. Its serene monastic quarters & mythical statues lining its compound further magnify the beauty of the monastery.