Located on New Phetchaburi Road in Pratunam district of Bangkok, Pantip Plaza is an indoor IT shopping mall, where one can get very good deals on software or other similar items. In fact, it is one of the best places in Thailand to pick computer accessories, at very cheap prices. Innumerable shops in this multistory mall are loaded with an extensive range of products, which makes it one of the most frequented places in Bangkok, by all gadget and gizmo freaks. If you are good with differentiating between genuine and counterfeit software and DVD's, Panthip Plaza will no doubt offer some very good bargains to you.
Divided into two anchors, the IT City on the top floor and Data IT on the mezzanine level, the whole place literally brims over with huddles of small shops, each specializing in computer hardware, software and other accessories, including networking, second hands, laptops, Macintosh and peripherals. Most of these shops also do repairs and modifications. However, one needs to be extra-careful while making any form of purchase in the mall, as the shops here have a notorious reputation of selling phony computer related products and hacked versions of software programs also.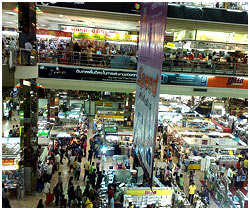 Normally, counterfeit software, DVDs and games comes for a price of about 100 (on CD-Rom) to 300 (on DVD-Rom) baht. Especially, in the ground floor of the plaza, sale of illegal software is open and rampant. Besides, many tourists love visiting the mall for its huge array of second-hand business machines from popular names such as IBM, Dell and Gateway. In addition, the prices of new hardware, digital cameras, printers, computers, etc come at very affordable prices. Even though there are occasional clearouts on the plaza by Thai police, the place manages to pull through its popularity every time.
Apart from extensive selection of software and hardware, Panthip Plaza also has some very good eating joints and restaurants, at all the levels. Therefore, once you are done with browsing the shops of the place, you can eat your fill at any of these eateries. There is a string of restaurants, including brands like KFC and A & W on the ground floors. On the mezzanine level and second floor, there are food courts that are best to sample some excellent Thai delicacies. Normally, food comes quite cheap, at a standard range of 30 baht to 40 baht. Both Thai and Western deserts are also available at a nominal price of around 15 baht.