Bangkok, the cultural nub of Thailand, is one of the most celebrated cities in entire Southeast Asia. The rich tradition of the Thai Kingdom, along with its variegated culture, finds refined manifestation in the city. Bangkok is sprinkled with beautiful pieces of vibrant Thai culture, exemplified through its heterogeneous populace, graceful Thai classical dance and music, colorful costumes, traditional cuisines, inimitable architectural style, time-honored arts and crafts etc. In fact, the multihued heritage of Thailand is deeply enmeshed in the traditions of this spectacular city.
Bangkok skillfully blends the rich facets of Thai culture and the modern strides of urban delights. One can see the unique bequest of Thailand in the form of stunning temples, dazzling monasteries, alluring palaces and a host of other architectural splendors. Especially, the areas near Sanam Luang remain dotted with architectural icons, such as the Grand Palace, along with the Wat Phra Kaew. Besides, the populace of the city, with diverse communities like ethnic Thais, Chinese, Hindus, Muslims, Christians, Sikhs, Confucians etc, adds on to the multifarious image of Bangkok. With this article, discover the unique cultural heritage of the city.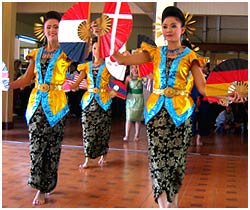 History
The capital city of Bangkok presents an intriguing history and origin that concurs and coincides with the tumultuous history of Thailand. Bangkok went on to become the capital of the Thai Kingdom in 1767, during a period when the former capital of Ayutthaya fell victim to Burmese armies.
Cuisine
It would not be an exaggeration to say that many people visit Thailand to savor the exotic cuisines of the place. The country offers an amazing range of culinary delights, internationally recognized for their distinctive flavors. Owing to the cultural heritage of the place, traditional Thai food is a mouth-watering fusion.
Arts & Crafts
Thailand is home to an enchanting variety of arts and crafts. The profusion of natural materials, like palm leaves, rattan, wicker and coconut, is the main reason behind the availability of a large number of handicrafts in the country.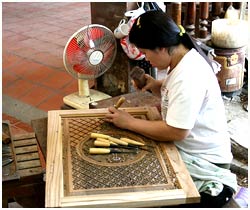 Languages
Bangkok, the capital city of Thailand, domiciles people belonging to different parts of the globe and thus, acts as a common cultural platform for many communities. In Bangkok, you will come across people from different countries, like China, Japan, India, South Korea, Europe, America, Nigeria, etc.
People
Before visiting a new place, it is always advantageous to have some idea regarding the temperament and disposition of the native people. When it comes to Bangkok, the capital city of Thailand, you can be assured of a pleasant stay, as the people here are very welcoming and hospitable.
Religions
The political, commercial and cultural hub of Thailand, Bangkok is one of the most celebrated cities in entire Southeast Asia. The architecture, cityscape, lifestyle and especially the nightlife of Bangkok highlight its multinational image.