Visa forms an important part of your travel documents while visiting any foreign country. Whether you are an overseas student, government official or a tourist, you need to have a visa to enter the Kingdom of Thailand. In fact, your visa for the country acts as your entry ticket to Bangkok as well. Thus, visitors willing to travel to Bangkok must ensure that they fulfill all the visa requirements of Thailand. Generally, a person can enter Bangkok with the help of any of the following visas, as issued by the Royal Thai Embassies or Royal Thai Consulates - Transit Visa, Tourist Visa, Non-Immigrant Visa, Diplomatic Visa, Official Visa and Courtesy Visa.
Transit Visa
This type of visa is valid for three months and issued to applicants who wish to enter Thailand to travel, in transit, through the Kingdom, in order to proceed to the country of destination or to re-enter their native country. It is also issued to a sportsperson who needs to participate in sports activities or to a person in charge or crew of a conveyance visiting any port, station or province in the Kingdom. Visitors with a transit visa are allowed to stay in Thailand for a period of not more than 30 days.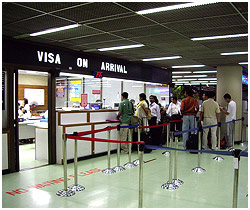 Tourist Visa
A tourist visa is issued to applicants who wish to visit Thailand for tourism purposes. Such a person should, under no circumstance, should engage in any kind of work or business activities in the country. A tourist visa is valid either for 3 months or 6 months. Nationals of certain countries enjoy tourist visa exemption with Thailand and may enter the country without visa and stay for a period of not exceeding 60 days.
Non-Immigrant Visa
Such a visa is issued for official or business purposes. It is issued to applicants whose purpose of visit is to invest with the concurrence of the Thai Ministries and Government Departments concerned, to invest or undergo related activities and for study and other research activities. Besides, people who are to work as a film-producer, reporter or perform religious works are also issued such a visa. Other cases include - people who come to stay with family, to be a sport coach or receive medical treatment. The holders of such visa are granted a stay for a period of not more than 90 days, unless otherwise officially instructed.
Diplomatic or Official Visa
A diplomatic visa is issued to diplomatic or official passport-holders, under official request, who wish to visit Thailand to assume duties at a foreign Diplomatic Mission or Consulate or International Organization in the country. Such a visa is also granted to their family members.
Courtesy Visa
A courtesy visa is granted to diplomatic/official/ordinary passport-holders who wish to enter Thailand on official duty and/or other purposes. The Thai Embassies and Consulates-General grant such visas under special official request.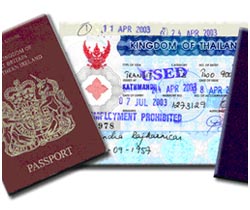 Visa Exemption
Certain countries enjoy visa exemption in Thailand. Therefore, passport holders of these countries are allowed to enter the Kingdom for tourism purposes without a visa and are permitted to stay for a period of not more than 30 days. Besides, foreigners who visit Thailand under the Tourist Visa Exemption category may re-enter and stay in the country for a total duration of not more than 90 days within a period of 6 months. They must also own finances amounting to 10,000 Baht (per person) and 20,000 Baht (per family), in cash, for the duration of their stay in the country.
The following places fall under the category of Visa Exemption in Thailand