The cityscape of Bangkok is known for its concrete wealth that juts out in the form of many titanic monuments, palaces and buildings. However, in the midst of this stony jungle in Thailand rests some utterly tranquil and green stretches such as the Santiphap Park. Located between Rachavithee and Rangnam Road, in urban Bangkok, the place positions a striking contrast to its unruly surrounds. The park keeps up to its name 'Santiphap', which means 'Peace' in Thai. In fact, the name of the park literally translates to 'Park of Peace', and thus commemorates the peace after the end of World War II.
Santiphap Park is similar in style to the Benchasiri Park on Sukhumvit Road, though its overall size is relatively smaller. The whole area stretches approximately for 20 rais (32,000 sq. m.). Due to its small size, the green spaces in the park remain spotlessly clean and sparkling. Thick shades of trees speckling it impart an equally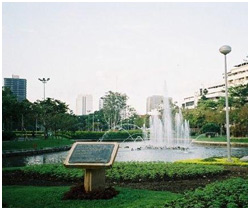 neat and planned look. However, the best part is that even though the place has limited confines, it provides excellent options for jogging and exercising.
Besides, what makes the park unique is the overpowering sense of calm and silence that envelops it. The place remains eerily quite and is therefore, best visited if you want to undertake a solitary sojourn to the depths of nature. Nothing can beat the charm of an early morning stroll in this park. Simple recline in the lap of nature and inhale the bracing beauty, or catch some excellent view of the Baiyoke Sky Tower from here. Another element that heightens the beauty of this park is an eye-catching fountain located in the heart of its grounds.