Loy Krathong is a spectacular festival celebrated across Thailand, which commemorates The Goddess of Water. Therefore, Bangkok, which cuddles the Chao Phraya River, evolves into a spectacle when this event sees celebration during the month of November. It is actually a 13th century Sukhothai tradition of Brahmin origin, adapted to Buddhism, which has thrived as a popular festival of the country, amidst many established myths and lore. Every year, the event takes place on the full moon day of the 12th lunar month. It offers a spellbinding mix of culture and merriment, thus making it enjoyable for everyone.
Central to the celebration of Loy Krathong is the 'Krathong' - a very special boat made from banana leaves that holds offerings such as food, lighted candles, flowers, joss sticks, etc. The tem 'Loy' on the other hand, means 'to float'. Therefore, 'Loy Krathong' refers to the act of floating such vessels on water, as a means of worshipping the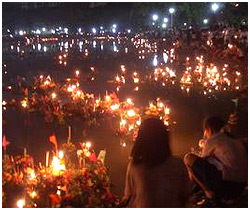 Water Goddess. Although, any water-body is a good place to float a krathong, the Chao Phraya is the most preferred and thus,, poses worth a sight. It heaves magnificently, as millions of dazzling candles glide over its bosom. Many floating lanterns ('khom loy') also heighten the spectacle.
As in the case of Songkran celebration, the Thais await Loy Krathong with much zeal and trepidation. The celebrations in Bangkok are especially noteworthy, as the city dons a new garb of sights, sounds and smells. Various hotels alongside the Chao Phraya organize events related to Loy Krathong and the city pours out n-number of food stalls and carts to add on to the party zing. Fireworks splatter the skies and temple fairs are also held in the Wats. The traditional 'Miss Nopamas' beauty pageant organized during this time also attracts huge crowds. Some of the best places to enjoy Loy Krathong in Bangkok are - Lumpini Park, Dream World and Siam Park.