For gourmands all over the globe, Bangkok promises a sensational epicurean journey. The city has a range of delightful restaurants and eateries, which doles out titillating cuisines that cater to all types of palates. Whether you are born with a sweet tooth, prefer salty platters or have a penchant for tangy flavors, you need not worry as long as you are in Bangkok. Be it traditional Thai food with its wealth of herbs and spices, or cuisines from any other country, the restaurants here simply brims with various delights. Besides, when it comes to eating out in the city, options are limitless.
Like the cuisines of Bangkok, the restaurants are also varied. You can savor local delicacies in a traditional teak house, have an exclusive dining experience in a Chao Phraya cruise or gobble your heart at some fast food corner; the range is just amazing. Apart from its abundance of non-vegetarian food, many restaurants are also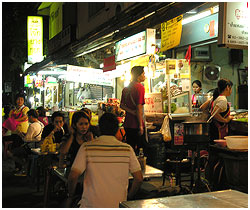 popular for their vegetarian dishes. In fact, no one's left out from treating their taste buds in Bangkok. Besides, many restaurants specialize in certain regional delicacies, which make eating out in the place an exciting affair. Check out this list of famous restaurants in Bangkok.