Suan Lum Night Bazaar is perhaps one of the best ways to experience the animated nightlife of Bangkok. Situated in Pathum Wan district, at the intersection of Rama IV and Sathorn Roads, it shines as one of the most hip outdoor markets of Thailand. Not only is the place one of the best places to make good deals on clothes and accessories, but also provides ample other recreational facilities as well. In fact, owing to its fascinations, the bazaar remains packed with tourists as well as local crowds of Bangkok year-through.
Open everyday, from 6 pm until midnight, the market surges with activities through and through. Aside from attracting tourists in large numbers, it also remains a favorite nocturnal getaway of local Thais and expatriates. Many people love strolling around the shops, scanning trendy outfits and funky accessories. There are many clothing and jewelry shops by local designers that are thronged by fashionable Thai girls and discerning tourists. Besides, the market is equally popular for home décor items, CD's, VCD's and other curios and trinkets.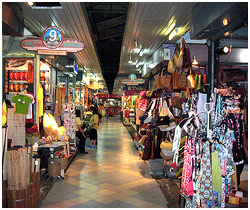 Nevertheless, the popularity of Suan Lum not only rests upon its shopping splendors, but also extends to other features. Dining in the Suan Lum Bazaar has its own charm and offers a perfect night out in the city. There is a string of snack bars catering to different palates and a beer garden, packed with food and live entertainment. There is also a row of restaurants with both indoor and outdoor sitting facilities. These food joints, complemented by bars, remain the favorite joint of many tourists. More often than not, you will also find many locals enjoying their after-office drinks at these places.
Apart from shopping and dining, another conspicuous highlight of Suan Lum is the Bangkok Hall, located within its premises. It is a large hall, with a seating capacity of about 6,000 people. Another major draw is the Joe Louis Puppet Theatre, a traditional Thai puppet troupe that presents performances based on the Ramakien - the national epic of Thailand. Thus, whether you want to spend a languorous evening, with friends sipping foamy beers, enjoy international cuisine, or simply shop your heart out, Suan Lum Night Bazaar no doubt acts as the perfect venue for enjoying a perfect evening in Bangkok.