Located in the Chatuchak district of Bangkok, on Kampaengphet 1 Road, the beautiful Chatuchak Park spreads over an area of 30.4 hectares. Set in the midst of lush surroundings, the park is a haven for nature lovers and health conscious people residing in the provinces of Northern Bangkok. It is also just a stone's throw from the famous Chatuchak Weekend Market, which is the largest weekend market inThailand. Therefore, the park remains crammed during the weekends, when most people come to warm up, before hitting the unending mazes of stalls in the Chatuchak bazaar.
Chatuchak Park not only boasts of being the largest park in Northern Bangkok, but is also one of the oldest parks in the city. Its construction began in 1975, on the land donated by the State Railway of Thailand. However, it was officially opened only on December 4, 1980. From the time of its inauguration till date, the park has been gratifying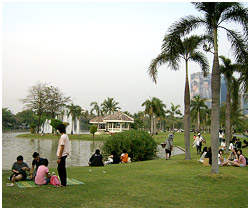 the needs of many. Surrounded by abundant greenery, the park has a huge campus, a Health Centre and many jogging tracks. These areas are absolute delight for people who come here either to catch lungfuls of fresh air or to stretch their weary nerves.
Besides, there is an artificial lake located in the middle of the park, with several Fish Watching Bridges topping it. There are rowing facilities available in the lake and many people visiting the park love to paddle their way around, appreciating the surrounding sense of calm. Some also prefer to while away their time standing on these bridges, watching and feeding the pretty fishes that bob and play underwater. At hand, there is the Thai Literature Garden and Herb Garden, which also attracts many. In addition, the feature that is most fascinating for children is the train museum located inside the park.