Few places in the world would have so many and diverse museums as Bangkok. Museums like Ancient City, National Museum, Buddhist Art Museum, King Prajadhipok Museum, Suan Pakkard Palace and Vimanmek Mansion tell about the royalty and culture in Thailand. Bangkok Doll Museum is an exclusive place on dolls. Children's Discovery Museum is dedicated to children. The Air Force Museum makes us aware of the development of Thai Air Force.
Bangkok National Museum is the largest in South-East Asia and the foremost museum on Thai history and culture. Ancient City has so many miniscule replicas of the monument all over Thailand. Buddhist Art Museum throws light on the evolution of Buddhist art in Thailand. Vimanmek Mansion is the largest teak building in the world. All these museums have their own distinct feature.
Bank of Thailand Museum tells about the evolution of currency of Thailand. Siriraj Museum is part of a hospital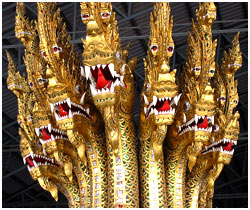 and can be turned a gory place. You would see things there which are totally different from usual museum features. House of Jim Thomson tells us a lot about Thai silk industry. Thai Labor Museum tells about the conditions of labors in Thailand of yesterdays. In Royal Barge Museum, you can see gorgeous royal barges. Rare Stone and Ashtray Museum in Bangkok showcases fantastic collection of rare stones and ashtrays from all over the world. is the brainchild of Banyong Lertnimitr, an exporter of garments.
Philatelic Museum deals with the development of postal service in Thailand. Children's Discovery Museum is an edutainment place for children. It educates children how they were born, how their brains work and how their bodies function mechanically. One gallery in the museum focuses on environment issues. Doll Museum, a factory cum museum, shows a collection of dolls which are like by people of all ages.