Imagine boats, piled with fresh tropical fruits, gliding on the water! As you savor the sight, the piquant aromas of cooked food drifts from the floating kitchens attached to these boats and instantly arouse your appetite. This is the scene awaiting you, once you witness the floating markets (Talaat Naam) located near Bangkok. Unlike normal stores, the sellers here sell their wares on small boats and vie with each other for capturing the attention of consumers. You can see strings of such colorful floating boats alongside the numerous canals and waterways, while you travel to Bangkok, the most striking city in Thailand.
Due to their quaint setting, amidst tropical surroundings, these floating markets heighten the Oriental beauty of the place and attract many tourists visiting the city. The boats are stacked with tropical fruits, tangy coconut juice, curios, knick-knacks and a wide variety of local foods, especially a host of Thai and Chinese delicacies. Besides,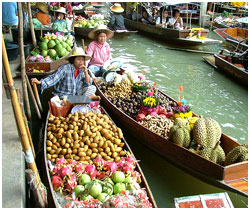 these floating markets also provide rich glimpses into the lives of the local people, who have been residing in the many floating villages in and around Bangkok, for ages. Given below are the names of the four main floating markets located near Bangkok.