The weather and climate greatly determines the rate of flow of visitors to a place. Like in all places, Bangkok too experiences seasonal variations year-round. Normally, the climate is tropical and warm in nature. Therefore, visitors who are unfamiliar with tropical climatic conditions may, at times, find the temperature a bit prickly. Nevertheless, undertaking a few simple measures will ensure that you enjoy a comfortable stay in the place, even outside the confines of your air-conditioned suites and hotel rooms. Scroll down to get information on the weather and climate in the Bangkok city of Thailand.
Summer Season
Summers begin in March and last until May. During this season, the weather remains hot and humid at varying degrees. At times, the temperature soars to a stifling 40
0
C (105 F). Besides, rainfall is scanty. The assaulting weather, coupled with urban congestion, may be a bit uncomfortable for some. In case you plan a visit to Bangkok during summers, arm yourself with lots of fluids, electrolyte solutions, hats, light cotton clothing & good sunscreens. Nevertheless, the good part is that people who are ready to conquer the severity of summers can grab many off-season discounts on travel and hotel expenses.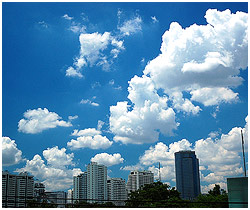 Monsoon season
Bangkok experiences the rainy season from May until November. During this period, frequent spells of rainfall occur, leading to flooded streets and regions located near Chao Phraya River. These heavy downpours are unpredictable and occur at any point of the day, but normally do not last for more than an hour. The wettest months are July and September and rainfall lasts for hours during these months. Even with its setbacks, monsoon in Bangkok is a favorite with locals and tourists, as it is a welcoming respite from tormenting summers. The weather remains warm, with temperature hovering around 30
0
C (85 F). Carry rainproof clothing and flip-flops along, if you visit Bangkok during this season.
Winter Season
In Bangkok, winters arrive in the month of December and last until February. The average temperature remains around 26
0
C (80 F) and weather remains mildly cool and dry. It is cooler during nights, but days remain pleasantly warm. The sky remains clear, the wind breezy and the humidity is low. Thus, owing to the bracing climate, this season is the most inviting and Bangkok sees heavy tourist traffic during these winter months. The climate remains perfect for lazing around in the numerous outdoor beer bars and tourist hangouts of the place. Light woolens are all that you require if you are Bangkok-bound during winters.