Spread across an area of 13 acres (32 rai) on Rama I Road, in Pathum Wan district, Siam Paragon is a fashionable mall that gives luxurious dimensions to shopping experience in Bangkok. Inaugurated in December 2005, the mall is one of the biggest shopping centers in Thailand. The place is a 'one-step recreation destination', with its clusters of stores, restaurants, leisure facilities, multiples movie halls, etc. In fact, it has 15 modern movie theatres, one of them equipped with the largest screen and sitting capacity all over Asia.
Paragon Department Store in the mall sprawls for 50,000 sq. m. About 40,000 sq. m houses retail shops, selling various luxury items like swanky brand apparel, jewellery, electronics, audio equipment, supercars, sports goods, etc. Designer names like Gucci, Balenciaga, Valentino, Kenzo, Armani, Jimmy Choo, Chloè, Dolce & Gabbana, and Salvatore Ferragamo grace the extravagant touch of the place. Among the elite crowd, the modish Thai traditional stores, selling expensive Thai curios, antiques, ivory and Thai silk, are also popular.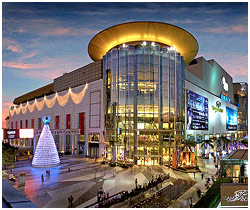 The lower level of the mall is an absolute delight for the gastronomes. The 8,000-sq-m 'Gourmet Market', and the huge food court area, hemmed with a variety of multi-cuisine restaurants and food stalls, is a must-visit. You can relish authentic Thai delicacies as well as cuisines from different countries here. In fact, there are several restaurants and eateries from other countries also, such as Tony Roma's, McDonald's, Haagen Daz, Fuji Japanese, Kabuki Japanese Restaurant, KFC, LeNotre, Orvin, Swensen's Ice Cream, to name a few.
Some other highlights of Siam Paragon include the 'The Royal Paragon Hall' and 'Paragon Cineplex'. The event facility of Royal Paragon Hall stands on an area of 12,000 sq. m and has a capacity of around 5,000 people. Besides, the Paragon Cineplex occupies 25,000 sq. m area. The luxurious movie-viewing facilities of the Cineplex, along with the grand Enigma members-only lounge make it a favored spot of unwinding among high-heeled visitors. The IMAX Theater and the theatrical magnificence of Siam Pavali are some of the other delights.
On the sixth floor is the 30-lane Blu-O Rhythm and Bowl and karaoke facility of the mall. People who are on the go can hit this zone or head on to the fitness center (California Wow!) on the fourth floor. Even for children, visiting the mall proves to be an enjoyable dayout, as it is home to the Siam Ocean World, which boasts of being the largest aquarium in Southeast Asia. With its breathtaking collection of over 30,000 marine animals, it takes one to an incredible underwater journey. No doubt, with so many pleasures trapped within its realms, enjoyment in Bangkok remains incomplete without Siam Paragon.