Princess Mother Memorial Park, located in the Klong Sarn district of Bangkok, honors Princess Mother 'HRH Somdet Phra Srinagarindra Boromrajajonnani'. It was erected under the royal command of His Majesty, the King Bhumibol Adulyadej, King of Thailand, who wanted to preserve buildings located near his mother's previous residence and present them in the form of a museum. Apart from honoring his mother through a commemorative museum, he also wanted to remodel the surrounding areas as a public park and dedicate it to his people. This is how the scenic Princess Memorial Park took form.
The entire park is picturesquely divided into two distinct areas - a general area and a beautifully done conservation site. The general area decks in a wide variety of exotic plants like Cham-manad, Lun Tom and Pud-Jeeb, and serves as a perfect venue for leisure activities and seasonal merriments. The place is also used as a site for conducting various exhibitions, including display of traditional arts and crafts. Besides, the restful atmosphere and the lush foliage that surrounds the park give rich insights to the floral wealth in Thailand.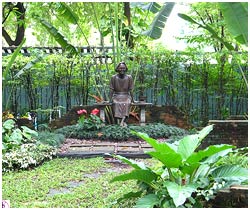 The conservation area of the park holds the actual treasures of the place. There is a traditional Thai house, which is actually the replica of the house that the Princess Mother used to reside in, during her early days. In addition, a quaint museum stands in the park, compiling the biography, projects and various activities of the Princess Mother, thus acting like a royal memorabilia. This section of the park also houses an academic building that is used for a number of functions - exhibition, reading, and other activities.
Sri Pipat Art Center Building and the office building are two other important zones of the park. The Art Center is used as an art and cultural exhibition hall, whereas the office building provides for an office for the park officials. An octagonal marquee built to celebrate the 96th birthday of the Princess Mother, her solemn statue and a large engraved stone plate also rests in this conservation area. Princess Mother Park, with its alluring gardens and beautiful assortment of ancient and contemporary buildings is an excellent place to witness the rich legacy of Thai culture, tradition, and family values.