The Golden Mount gleams like a tiara on top of the Wat Saket (Buddhist monastery), located in the Banglamphu Region of Bangkok. Also known as 'Phukhao Thong', this huge chedi with a height of 100 m and a base diameter of 500m, seems to envelop the skyline of the city from a large distance. Apart from its luminous appeal, the Golden Mount is also popular as a chasse that houses the relics of the Buddha. Thus, the Wat Saket is a place of profound religious significance and also serves as the holy site of celebrating the Golden Mount Fair of Bangkok.
The Golden Mount Fair is held from the 11th day of the waxing moon of the 12th lunar month to the third of the waning moon of the same month, as per the traditional Thai calendar, and normally falls in the month of November. During the event, the Golden Mount is draped in red cloth, and Buddhists from various corners of the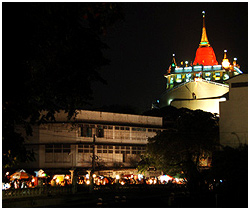 world ascend to the Wat Saket temple to pay tribute to the holy remnants of Lord Buddha. Most importantly, during the full moon night, swarms of devotees, with lighted candles in hands, wind their way to the Golden Mount and pay their obeisance at the sacred coffer.
After this candlelight procession, the following day sees the celebration of the temple fair. During this time, the whole place steeps with a joyous spirit, and the temple ground offers scores of merrymaking in the form of food and bauble stalls, theatrical performances, freak shows, animal spectacles and many other entertainment sources. People regale in the exotic 'likay performances' and eat to their fill at the small eateries. Therefore, be it for the religious connotation or simply the pleasures of communal festivities, the Golden Mount Fair retains its credit as the most elaborate temple fair all across Thailand till date.