Come up for some sweet-smelling air in the Pak Klong Talat of Bangkok. It is the best place to take a break from your culinary extravaganza in the city and attain a sense of calm and sensory spur with some olfactory and visual delights. Pak Klong Talat ('Talat' means 'Market') is the biggest flower market in Bangkok city of Thailand. Sprawling along the unruffled Chao Phraya River, the mottled magnificence of the market, with its exotic range of flowers, provides a unique shopping experience in the city.
Every morning, floral vendors from the various flower-growing alcoves of the Kingdom meet and entirely transform the atmosphere of the roadside of Pak Klong. Colorful posies of lily, jasmine, marigold, roses, orchids, chrysanthemums and daisies deck the stalls and pour out their aromas throughout the market area. In fact, the floral spread is truly soporific, with the breathtaking colors and fragrance of flowers spreading to large distances around the area.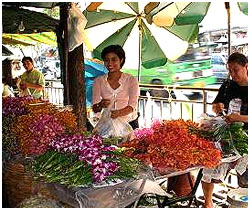 Apart from multihued roses and chrysanthemums, the market also offers many other blooms, typical of tropical climates. The best part is that when you compare the rates by western standards, you will see that all the flowers, including those grown in Chiang Mai and Chiang Rai, are sold at quite tempting rates. In addition to the flowers, the market also dedicates itself to a large variety of fresh vegetables, harvested in some of the surrounding provinces.
If you visit the market during daybreak, you can see boats and trucks laden with fresh flowers, vegetables and fruits stockpiling the day's supply. Most of the flowers are brought from the nearby provinces of Nakhot Prathom, Samut Sakon, Samut Songkran, Chiang Mai and Chaing Rai. Even though the place remains huddled with flower stalls throughout the day, the best time to visit it is during early morning or late at night. If you are in Bangkok, especially near Phahurat or Chinatown, do not miss a trip to this floral sanctuary.
If you are looking for florists in Bangkok, you may also go and get flowers from Pak Klong Talat. Most of the local people can bet that you won't be disappointed with the quality of fresh flowers and also cheap price.