The capital city of Thailand, Bangkok offers something or the other to everyone. The place is an out-and-out a paradise and is equally tantalizing to the young and the old. Whether you are traveling alone or Bangkok-bound with friends, family, or your beloved, you can be assured of a holidaying experience that is unbeatable. Moreover, the city mirrors the wealth of tourism delights found in Thailand, in form of its unrivaled possessions. Be it the architectural splendor, landscape beauty, or simply the culinary extravaganza of the place, Bangkok by far remains one of the most exciting tourist destinations in entire Asia.
Bangkok also claims merit as a flourishing art center of Thailand. Besides, the city is home to some of the finest public and private galleries of the country. They exhibit and sell different varieties of art and are an absolute treat for the art aficionados round the world. Though most of them concentrate on traditional and contemporary Thai art, many galleries also display art collections from places like China, Vietnam, Burma, India, etc. Many university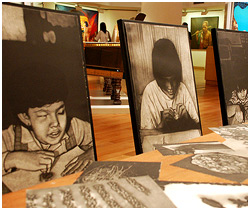 galleries also showcase works by staff and students. In fact, from traditional to avant-garde, the art galleries of Bangkok present a striking contrast of different artworks. Given below is a list of some of the most popular art galleries in Bangkok.