Mae Nam Chao Phraya or Chao Phraya River is the main river of Thailand that meanders its way south through the nation's Central Plains for more than 220 miles to the Gulf of Thailand. As far as its etymological origin is concerned, Maenam or Mae Nam corresponds to the Thai word 'Mother' and 'River' (Mae is 'Mother' and Nam is 'Water'). Besides, 'Chao Phraya' is a Thai title that corresponds to 'General' or 'Lord'. Thus, the name of the river reveals its significance and place of prominence amongst the natives of Thailand.
The Chao Phraya originates at the convergence of the Ping and Nan River in the Nakhon Sawan province, and slowly gushes from the Central Plains to Bangkok and the Gulf of Thailand. Some of the main cities of Thailand located on the banks of the Chao Phraya include Bangkok, Nakhon Sawan, Ang Thong, Chainat, Uthai Thani, Singburi, Ayutthaya, Pathum Thani, Nonthaburi and Samut Prakan. Owing to their easy access to waterways, these cities are also some of the most populous areas of the country.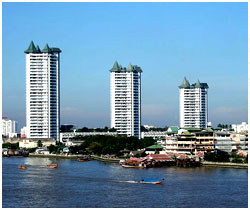 Thus, the River is a narrator and carrier of the ancestral history, culture and civilization of the people of Thailand. Chao Phraya River in Bangkok severs the city in a curve that girdles the old city. The western bank of the river or the Thon side is 'Fung Thon', while the eastern side is 'Krung Thep' or the 'Pranakhorn'. Apart from lending beauty to the cityscape, the river also forms a major vein of Bangkok. It is the main carrier of business and leisure traffic of the city and the fastest way to travel around the place.
A cruise along this celebrated river and the canals (khlongs), on the Thon Buri side, forms one of the most preferred ways of exploring Bangkok. Such tours are a hot favorite amongst all Bangkok visitors and provide a magnificent perspective to traveling around some of the city's most exotic locales, including the floating markets (Damnoen Saduak, Taling Chan and Wat Sai). One can easily organize such tours with the help of various travel agents in Bangkok. Many hotels also have facilities for Chao Phraya tours and cruises.