Bangkok National Museum, the largest museum in South-East Asia, is a spectacular museum on Thai history and culture. The museum displays a stunning collection of objects including prehistoric art, murals and objects used by the royals. A vast collection of antiquities has been hosted in this museum.
The Halls
The halls in the museum are dedicated to topics such as musical instruments, armaments, clothing, palanquins, khon masks etc. Throne Hall is used for special exhibitions. All periods and traditions of Thai as well as Buddhist art are preserved in the museum. The museum also features ceramics, period sculptures, mural paintings and other decorative arts. Stress is on art, archaeological and cultural objects which are dated from as early as prehistory up to present day.
Gallery of Thai History
This gallery takes the visitors back to prehistoric Thailand. Catching glimpses of kingdoms like Lanna, Sukhothai and Ayutthaya, one arrives in modern Thailand.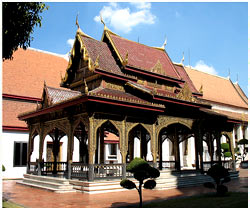 Private Chapel
The private chapel, called Phra Thinung Phutthaisawan, is an important stop in the national museum. A copy of the much-appreciated Phra Singh Buddha images is here. Other copies are found in the temples of Chiang Mai, Chiang Rai and Nakorn Si Thammarat. Behind the centre of the wiharn are several large storage cases for scriptures. Here are some precious mural paintings from the bygone era.
Ceremonial Chariots
The gigantic well-carved chariots can inculcate interest in anyone. The chariots were once used exclusively for royal cremations. Magnificent 40-ton Vejayant Rajarot is the most glorious chariot. The chariots were last used in 1996 for Princess Mother's funeral.
The Pavilion
The pavilion has two peculiar features. Delicate fretwork in moorish design and a conventional Thai-style roof. And these two are enough to leave you impressed.
Tours of the Museum
On Wednesdays and Thursdays, free English language tours of the museum, lasting about two hours, are available. On Wednesdays, tours can be availed in French and Japanese, and on Thursdays in German. These tours will be very helpful in understanding the exhibits.
Location
The National Museum in Bangkok is situated on Naphra That road between Thammasart University and the National Theatre.