One of the brightest stars in Bangkok is, no doubt, its exciting after-dark activities. Many vacationers visit it in order to relish the nocturnal pleasures that ooze in multifarious forms, once the city envelops in neon lights. From spectacular transvestite shows, enticing go-go bars to dramatic performances in Siam Niramit, the setting sun acts as a harbinger of unlimited pleasures in Bangkok. Especially, for the young, and young at heart, the discotheques of the city are worth a visit. They not only add on to the cosmopolitan image of Bangkok, but also stand class apart from all other discos around Thailand.
What makes them all the more unique is the fact that they cater to a wide variety of night crawlers. For people who love to bop around the dance floor, the Western style discos do the trick. They are similar to the discos abroad, have a dance floor and also feature a live band or a DJ. On the other hand, there are Thai discos, which do not have a dance floor. They are meant for people who are happy chair dancing or jigging around tables. Often, these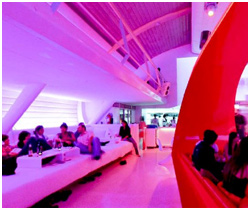 Thai discos arrange traditional shows such as Thai dance and music. Some of them also feature a 'katoy' (transvestite), or a bikini lady. Check out this list of discos, so that you know where to hit the next time you visit Bangkok.