Charmed by myriad treasures, thousands of tourists visit Thailand every year. Most of them head straight to the capital city of Bangkok, fascinated by its many tourist attractions. With a pitching nightlife and countless revelry, it no doubt presents scores of pleasures for adults. However, families with small kids are often unsure of how and where to fulfill entertainment needs of their children. One such place that caters to the various recreational demands of kids is the Siam Water Park in Bangkok.
Siam Water Park is a well-equipped theme park, located on 101 Sukhapibarn 2 Road, to the north of Bangkok. Popular as 'Suan Siam' amongst the locals, its recreational area is a huge water park featuring swimming pools, waterslides, whirlpools, fountain, etc. However, the prime attractions of the park are its 400-metre Super Spiral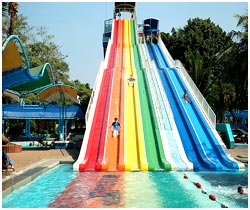 waterslide and the man made beach and lake, which feature artificial waves, foams and sand. Thus, the park is an ultimate breather for those who enjoy water sports and activities.
There are some additional wonders in the park as well. Excluding its aquatic attractions, it holds many other recreational options, such as playgrounds, a double-decker merry go round, an open zoo, aviaries, a botanical park and a bird park. Therefore, ambling around and watching the variety of flora and fauna is another favorite pastime of many tourists visiting the park. Swimsuit rental, changing rooms, and buses from the entrance to the Water Park are some of the facilities tendered by the park to visitors.