Deemed as one of the most beautiful cities of Thailand, Bangkok beckons many visitors every year. Especially, innumerable overseas visitors reach the place from all the corners of the world. The place is well linked to nearby provinces as well as international destinations, through excellent system of airways, railways and roadways. Therefore, endowed with good transportation facilities, getting to Bangkok poses no problem for tourists. In case, you are planning a trip and want to know more about traveling to Bangkok, this is just the article for you. Browse further to extract information on how to reach the place.
By Air
Don Mueang Airport, located 24 km north of Bangkok, and Suvarnabhumi Airport, located 25 km east of Bangkok, are the two airports of the city. Airlines like Thai Airways, Nok Air and One-Two-GO Airlines offer services for domestic travel at the Don Mueang Airport. However, most domestic and international flights arrive at Suvarnabhumi airport. Numerous airlines are available for almost all international destinations around the world, Thai Airways being the national carrier. Buses, taxis, minibuses etc link the airports with downtown Bangkok.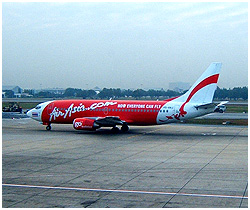 By Train
Travelers from neighboring countries can easily reach Bangkok by train. The main railway station of Bangkok is the Hua Lamphong Railway Station, located in Pathum Wan district. It caters to rail travel between Bangkok and up country destinations, like Ayuthaya, Phitsanoluk (for Sukhothai), Pattaya, Kanchanaburi, and Surat Thani. The Bangkok Noi railway station (Thonburi Railway Station) serves travelers going to nearby areas. Daily trains are easily available for reaching Bangkok from Chiang Mai.
By Road
Traveling to Bangkok by bus is also a preferred mode of transportation amongst tourists. Long-distance buses are available from places such as Malaysia (Penang, Butterworth and Luala Lampur), Cambodia ((Phnom Penh) and Laos (Vientiene). The Southern Bus Terminal, in the Thonburi area, links Bangkok to places in the southwest and the west. For destinations in the southeast of Bangkok, like Pattaya, Ko Samet and Ko Chang, buses are available from the Eastern Bus Terminal, at Ekkamai. For all destinations towards the north and northeast, buses can be availed at the Northern Bus Terminal, at Mo Chit.