What makes Bangkok one of the highest-flying shopping destinations in Thailand is its multifarious shopping temptations. The place offers fabulous breaks to shopaholics, as it abounds in contrasting shopping delights. While the ultra glam outlook of the city drips it with lofty complexes and malls, the place equally buzzes with the thrill of outdoor markets and colorful bazaars. One such exciting shopping stopover is the Phahurat Indian Market in Bangkok, which is also popular as Thailand's 'Little India'.
Actually, Phahurat owes its name to King Chulalongkorn, who named the place after his daughter Phahurat Manimai, who died at the tender age of ten. Located on the fringes of the bustling Chinatown, at Phra Nakhon District, Phahurat Indian Market is an ethnic neighborhood, adjoining Phahurat Road. Therefore, most of the natives of the area are of South Asian descent, with the populace comprising mainly of Hindus, Muslims, and Sikhs. Most of the merchants are Indian Sikhs engaging in the textile business.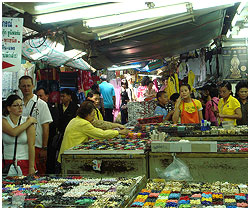 Due to its thriving textile trade, the market is ideal to procure some good quality fabrics and dress materials. In fact, most of the shops are known for their huge line of Indian ethnic outfits and different varieties of Indian souvenirs. Besides, the place also offers an amazing selection, when it comes to Indian cottons and silks. Aside from clothing and dress materials, the shops also trade in an incredible assortment of jewelry, cosmetics, handbags, shoes, and other knick-knacks, all at unbelievably cheap rates.
Another thing that makes Phahurat popular is its vast array of Indian cuisines. The main street and the various alleyways spill over some mouthwatering Indian fares, wrapped in pungent Indian herbs and spices. You can also test excellent variety of sweets and desserts that bring out the best from many states across India. Though some Chinese shops from the nearby Chinatown are penetrating Phahurat, the Indian market and the numerous South Asian restaurants still dominate trading and business of the area.