Suan Pakkard Palace Museum houses an assemblage of historic items and art objects in five conventional Thai houses. It prides itself on being the first museum in Thailand where the royal owners decided to gift their private residence to the general public as a museum. The museum is the blend of conventional architecture, vast collection and elegant gardens, making it worthy of a leisurely visit.
Museum Exhibits
The museum houses idols and other art objects related to the seventh century. Objects used by the royals, including betel nut boxes, clothing and fans have been kept in the museum. Another important collection here are archaeological artifacts obtained from Ban Chiang, including rocks, shells and ceramics. All of these are older than 4,000 years. Collection of Khon masks used in the Thai classical dance is also an acclaimed asset of the museum.
Lacquer Pavilion
Lacquer Pavilion draws most visitors in the complex. Over 200 years old, it once stood in a monastery just near Ayuthaya. Prince Chumbhot brought it here. A narrow corridor in the pavilion bedecked with carved gilded wood encircles the inner room.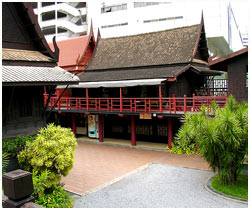 Museum Complex
Houses in the museum complex are fine examples of traditional Thai architecture. They are two stories high, just like all conventional Thai houses. Most of these buildings are linked by bridge, making it easier to walk around. At the centre is a garden with Japanese influence, making a semi-circle. The houses wear quite nice picturesque look
Address
Suan Pakkad Palace Museum is located at Si Ayuthaya Road in Bangkok.
How to Reach
Sky Train is the most convenient way to reach Suan Pakkad. Board the train operating on Sukhumvit Line and get down at Phayathai station. Get out from the northern side of the station and walk to the museum. One can also use local buses to reach the museum.