Wat Ratchanatdaram is a royal temple of third grade, constructed under the imperial command of King Rama III in 1846. He built the edifice to commemorate his niece, H.R.H. Princess Somanas Wathanavadi, who later became Her Majesty the Queen Somanas Wathanavadi of King Rama IV. Located on Mahachai Road of Bangkok, the highlight of the edifice is 'Loha Prasat', also known as Metal Castle, which asserts its value as 'one of its kind' in Thailand. Even though it was built during the rule of Rama III, extensive renovation occurred during the regimes of Rama V and Rama VI.
Built in Thai style, Loha Prasat lies towards the west of the Ordination Hall of the Wat. It has 37 spires, each representing the 37 Bodhipak Khiyadhamma - the different virtues leading to enlightenment. A winding staircase, similar to European staircases, with wooden posts stands at the centre and leads to the Mondop in the top floor.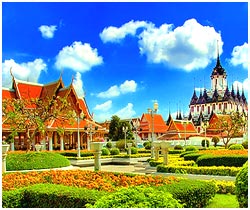 However, the significance of this Loha Prasat rests on the fact that it was the 'first of its kinds' in Thailand. In fact, only two other Loha Prasats are known in the entire range of Buddhism. One erected by Nang Wisakha Upasika at Puppharama and second built by King Dutthagamini.
Unlike the two other Loha Prasats, this Loha Prasat of Bangkok was built to serve as a chedi and not a monastic abode. It holds an urn, wherein rest the holy relics of Buddha. Aside from this Metal Castle, another noteworthy feature of the temple is the 'Ubosoth' (Ordination Hall), with square pillars surrounding it and the gable adorned with stucco. The main Buddha image is cast of copper and has been preserved here since the 1864 AD. King Rama IV named it 'Phra Setthamuni'. Apart from its historical and architectural significance, the Buddhist amulet market in the temple ground, selling a variety of talismans and magic charms, heightens its popularity among tourists.