The Democracy Monument in Bangkok, located between the old Grand Palace and the Dusit Palace, is a public monument honoring the June 1932 revolution that ended the rule of absolute monarchy in Thailand. Established in 1939, it is the brainchild of Field Marshal Plaek Pibulsonggram (Phibun), who saw the building of the edifice as the first pace towards the development of a westernized Bangkok. Moreover, the design of the monument owes its credit to an architect named Mew Aphaiwong.
An Italian sculptor named Corrado Feroci designed the relief sculptures around the base of the construction. He later became a Thai citizen and changed his name to Silpa Bhirasi. Today, his contribution to art and architecture in Thailand has earned him the title of the 'Father of Modern Thai Art'. The bas-relief panels on the base of the four wings of the structure are noteworthy and depict Bhirasi's genius. Due to the historic origin of the monument, the entire structure is engraved with various imageries and symbols.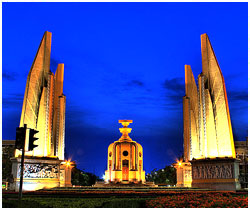 The most conspicuous feature of Democracy Monument is a carved representation of the Thai Constitution of 1932, placed on top of golden offering bowls. The four wing-like structures surround the Constitution and symbolically guard it from all sides. These four giant wings represent the four pillars of the Thai armed forces - army, navy, air force and police, all of whom played vital roles in the 1932 military coup. Each wing is 24 meters high, signifying the date on which the new Thai constitution came into being - 24th June.
Even the central turret of the monument is steeped with symbolism. It is 3m high, representing the month of June, 3rd month of the traditional Thai calendar. The six gates that flank the turret symbolize independence, internal peace, equality, freedom, economy and education, which were important policies of Phibun's rule. The snake-like fountains attached to the four wings represent 'nagas', holy creatures of Buddhist mythology. With its intricate architectural details, Democracy Monument majestically soars amidst the bustling traffic of Bangkok and forms a popular sight of the city.