One of the largest aquariums in Southeast Asia, Siam Ocean World spreads across an area of 10,000 square meters. It is housed on two floors, in the basement of Siam Paragon shopping mall of Bangkok. It is a subsidiary of the Oceanis Australia Group, one of the best aquarium operators in the whole world. With its innovative approach and huge array of aquatic exhibits, Siam Ocean World is one of the most frequented tourist attractions in Thailand. Apart from its recreational options, it also proves to be a very good learning center for kids.
This aquatic wonder-world gives one the pleasure of walking in an underwater environment, with a collection of over 30,000 marine animals, belonging to 400 different species. The whole place is lined with aquariums of various sizes, which hold numerous species of fish and other sea creatures. A few common sights are sharks, stingrays, pineapple fish, blue-ringed octopus, sea dragons, giant crabs etc. Its glass tunnels give one the opportunity of enjoying the aquatic pleasures from all three sides.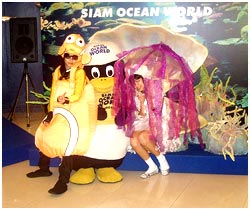 Moreover, the whole place is divided into seven sections, viz. Weird and Wonderful, Deep Reef, Living Ocean, Rain Forest, Rocky Shore, Open Ocean and Sea Jellies. All the sections take you to an incredible underwater journey, with their numerous displays of sea animals, inside thick glass walls. For daring visitors, there is an Oceanarium, which allows witnessing of aquatic life from close quarters. However, many visitors prefer to take a ride in the glass-bottomed boats present there.
There are also computers fed with all the necessary information about the various sea animals. Thus, apart from delving into sea depths through the glass views and rides, another thing that tourists love doing is checking out details of the marine species that swim across on the other side of the glass walls. There are also amphitheatres inside, which provide you information on what all sea creatures are present there. Thus, at 450 baht, Siam Ocean World gives visitors an unforgettable experience, filled with all the sea wonders imaginable.